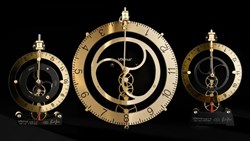 A Volanus clock is the perfect elegant christmas gift for a special person.
Reggio Emilia, Italy (PRWEB) November 19, 2013
Three styles of table and wall clocks can be purchased at the Volanus Wall Clocks Official Store.
Each clock is handcrafted in Italy following a unique design invented by Italian robotics engineer Renato Rinaldi.
Volanus clocks – the first and only clock in the world moved by pistons – also feature an open mechanism and external ring. The deliberate movement of the piston and flywheel make the Volanus clock the "engine of time."
"Every Volanus clock is as much a work of art as a timepiece," Pederzini said. "The design and movement that Volanus is renowned for make each clock unique."
Most clocks choose to hide their mechanics. On Volanus clocks, however, these mechanics are not only visible, but featured.
Rinaldi's solution links a magnetic piston to the connecting rod, crank and flywheel. The result is a steady, silent and harmonious timepiece.
The Volanus website is the only place where customers can buy the innovative wall and table clocks. Volanus clocks are numbered and signed and come with a five-year warranty. They can be shipped around the world and come with a wood elegant packaging.
"The design and technology behind Volanus clocks make them truly unequaled," Pederzini said. "Their beauty makes them an elegant addition for any luxury interior design lover."
About Volanus
Volanus clocks are one-of-a-kind luxury timepieces made in a small workshop owned by RRRobotica Srl in Reggio Emilia, Italy.
Invented by Italian robotics engineer Renato Rinaldi in 2012, Volanus wall clocks feature innovative technology and designs that make the mechanics of every clock visible.
Volanus clocks are the first and only clocks to be moved by pistons. For more information, visit the Volanus Wall Clocks Official Store