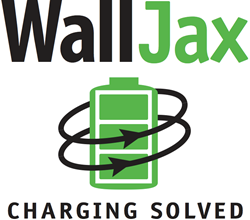 WallJax provides a safe, visually-pleasing location to charge your phone that blends in with your home's furnishings.
Boston, MA (PRWEB) September 28, 2015
WallJax, the elegant, wall-mounted wireless Qi charger that declutters homes and keeps users organized, will launch a crowdfunding campaign on Indiegogo on October 6. The campaign will run for 45 days in hopes of raising $125,000 to complete production of the design.
WallJax is offered in two configurations to meet all mounting needs: the WallJax EZ and the WallJax Float. WallJax EZ plugs directly onto an existing 120 Volt outlet and does not require screws or installation at all. WallJax EZ has a USB port on the bottom for versatility and passes through 2 regular AC outlets, so no functionality of the outlet is lost. WallJax Float is a wall-mounted wireless charging shelf where power is supplied by a standard USB cable. It can be mounted wherever the user needs with either supplied non-mark adhesive or screws.
"Wireless charging methods are slowly catching on, but there is yet to be a charging option that is both visually appealing and convenient," WallJax Co-Founder Jeff Kittredge said. "WallJax provides a safe, visually-pleasing location to charge your phone that blends in with your home's furnishings."
With its floating shelf and subtle finish, WallJax blends in with home interiors to help eliminate clutter from desks, nightstands and countertops. Its elegant yet functional system allows on-the-go users to simply drop their phone on the platform and know that it is charging.
WallJax is compatible with most phones. Some phones, such as the Galaxy S6 line, come with built-in wireless charging compatibility. Other phones, such as iPhones, can enable wireless charging with specialized wireless charging cases. Wireless charging is based on magnetic coupling. WallJax creates an oscillating magnetic field in a coil called the "transmitter coil," which induces a current in the "receiver coil" in the phone. Circuitry already in the phone or case converts the current to power for charging.
WallJax Float will be available via the Indiegogo campaign at $59, and WallJax EZ will be available at $79. For more information about WallJax products before the campaign goes live on October 6, visit http://bit.ly/WallJaxLP.
About WallJax
WallJax was founded in Boston in December 2014 by grad school classmates Jeff Kittredge and Roy Wang. Jeff worked 6 years in consumer good manufacturing prior to Electrical Engineering grad school and is a licensed professional Electrical Engineer. Roy Wang worked in train and public transit controls prior to getting his Masters in Electrical Engineering from Boston University. They spent the winter and spring of 2015 designing WallJax. For more information, visit http://www.walljax.com.