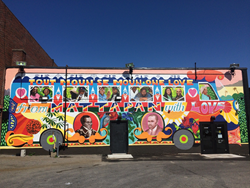 "Marilyn lovingly feeds my mother, changes her, bathes her, tucks her in, combs her hair — everything. I'm so grateful for all that she does, the only thing I could do was make her a heroic size on the wall." -Heidi Schork
NEWTON CENTRE, Mass. (PRWEB) August 24, 2021
Adelaide of Newton Centre, a Benchmark Senior Living Mind & Memory Care community in Newton, MA, is proud to have a local celebrity amongst its staff of employees who are Called to Care for those with dementia. Waltham mother of three and Haiti native, Marilyn Tullis, a Resident Care Associate at Adelaide, a memory care assisted living community, has her likeness featured in a new mural at the corner of Blue Hill and Fairview Avenue in Mattapan on the side of Chase Bank.
Marilyn has a prominent seat on the colorful bus depicted in the mural because she is a beloved caregiver for the artist's mother who resides at Adelaide. Marilyn is one of many associates at Adelaide who are hired for heart and trained for skill, providing compassionate care for those with Alzheimer's and other forms of memory impairment.
"She communicates with my mom in a kind and gentle way. She has an intuitive ability to know what is going on," said artist Heidi Schork, who is the Director of the Mayor's Mural Crew for the City of Boston and created the mural with her team over three weeks.
Commissioned by Chase, it honors the many Haitians and Jamaicans who live and work in Boston, Waltham, Newton and surrounding towns. At 30 feet high and 65 feet long, the mural was a complicated project for the team, but the caring and empathy that inspired it fueled the project towards completion.
The recognition comes at a unique time when many local Haitians are worried about family and friends back home due to the recent earthquake and Tropical Storm Grace.
"Marilyn lovingly feeds my mother, changes her, bathes her, tucks her in, combs her hair — everything," said Schork. "I'm so grateful for all that she does, the only thing I could do was make her a heroic size on the wall."
In the mural, area business owners and residents like Tullis are shown peering out of a public bus splashed in a wide array of bright colors. In Haiti, buses are called "tap taps" because passengers tap the ceiling to indicate their stop to the driver.
Tullis began caring for her sick grandmother as a young girl in her native Haiti. She also helped raise her younger siblings. Now, she cares for Schork's mother, Jeanne, among other Adelaide residents.
"Marilyn has a special way of connecting with our residents," says Cwieka. "She does a wonderful job of taking the time to understand what the resident wants and their interests, while also taking the time to explain our services and how we can help them."
For her part, Tullis is not an attention seeker. Instead, she speaks of her work as a blessing. "I love my job and the residents," she says. "I love taking care of both children and adults. I always try to make them happy and have fun."
For more information about Adelaide of Newton Centre, visit
https://www.benchmarkseniorliving.com/senior-living/ma/newton/adelaide-of-newton-centre.