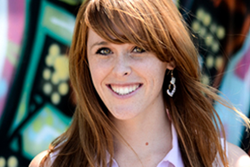 I'm so excited to be attending my first Pubcon in New Orleans. And I am even more excited to be speaking amongst such talented professionals."
San Diego, California (PRWEB) March 10, 2014
Thunder SEO, an online marketing agency in San Diego, California, announces Social Media Specialist, Ashley Ward, has been asked to speak at the premier social media and optimization conference and expo, Pubcon, in New Orleans on March 18th. The topic Ward will be speaking on is "Online Marketing Tools and Services".
Ward will be speaking on the best tools and tricks available for online marketing. Specializing in social media, she will specify the best ways to manage social media content as well as project management needs.
"We're happy to have Ashley Ward as a featured speaker at our big Pubcon New Orleans 2014 conference on March 17-20," said Brett Tabke, Founder and CEO of Pubcon. "Her keen online marketing tools and services knowledge, strong industry background, and thorough research are certain to make her expert spotlight session a must-attend presentation."
Pubcon will hold its multi-track New Orleans event March 17-20th in the New Orleans Convention Center. March 17th will feature a full day of Pubcon Masters Group search and social training and the official conference will take place March 18-20th. Pubcon New Orleans 2014 will offer a week-long look at the future of technology presented by many of the world's top speakers.
"I'm so excited to be attending my first Pubcon in New Orleans," Ward said. "And I am even more excited to be speaking amongst such talented professionals."
Founded in 2007 in San Diego, CA, Thunder SEO supports clients with innovative and results-driven online marketing solutions integrating social media, content optimization and promotion, link building strategies and implementation, local search and mobile marketing, online promotions and sweepstakes, public relations and online reputation management. Thunder SEO is located at 2920 North Park Way, San Diego, CA 92104. For more information on Thunder SEO, call (619) 618-2396 or visit them online at http://www.thunderseo.com/.