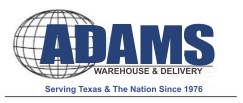 Our rush delivery for our local and USA delivery services provides clients with a fast service when they need their shipments delivered in short order. — Fred Adams
Houston, TX (PRWEB) October 03, 2013
Adams Distribution, a professional logistics company providing delivery and warehousing services, is dedicated to offering clients a one-of-a-kind warehousing and logistics solution. The company based in Houston, Texas now offers clients rush delivery on urgent orders especially those who need their shipments delivered within a very specific time-frame.
Their electronic tracking systems and reliability make Adams Distribution the ideal delivery and logistics company to handle clients' products and goods. From any of their Houston warehouses, the staff at Adams Distribution will track shipments, keep goods in controlled temperatures and FDA-approved warehouses, and deliver those goods in a safe and timely manner.
"Our rush delivery for our local and USA delivery services provides clients with a fast service when they need their shipments delivered in short order. There isn't a faster, more dependable, or better transportation service for rush delivery and local Texas delivery than ours at Adams Distribution" said Fred Adams, owner of the company.
Adams Distribution's main area of expertise is local contract route delivery. They can deliver goods and shipments of all sizes throughout a local route that services areas like Houston, Austin, San Antonio, Corpus Christi, and many more. They ensure their clients' goods are stored in temperature-controlled trailers and refrigerated trucks, which is particularly useful for clients who wish to transport food grade items around the state.
At Adams Distribution, only the most reputable and reliable trucking companies are used to guarantee the safety of clients' goods and the timeliness of each shipment or delivery, whether within Texas or throughout the U.S. Freight transportation with Adams Distribution will have client deliveries moved from A to B quickly and in ideal conditions.
This logistics and warehousing company also provides clients with quick rail-served delivery options for those who want to transport their shipment via train. The Adams Distribution warehouse can receive and deliver shipments from their three rail-served locales in Houston, Texas. The dock services are fully protected and secure, so clients can rest assured that their deliveries are safe within the dock warehouses. When goods reach the dock area, they are inventoried and stored until Adams Distribution's reliable trucking services are ready to take them to their end destination anywhere in the US.
Adams Distribution is one of the top fulfillment and logistics companies in Texas. It prides itself on its cost-effective, dependable, and quick transportation and warehousing services. For rush deliveries or orders, contact Adams Distribution using the contact information available.