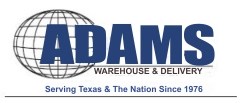 Each of our three warehouse facilities was constructed using weatherproof masonry construction. — Fred Adams
Houston, TX (PRWEB) September 18, 2013
As recent weather headlines continue to document more violent storms, larger hurricanes and even "super storms" such as Hurricane Sandy that hit the northeastern U.S. with billions of dollars in damages in 2012, customers seeking warehousing services in Houston are increasingly requiring warehousing facilities to be weather-resistant, especially resistant to high-wind situations. One beneficiary of this new demand for weather-resistant warehouse space is the local warehouse Houston business Adams Warehouse & Delivery.
"We offer over 400,000 square feet of warehouse space," Alfred L. Adams Jr., current owner and operator of one of Houston's leading logistics companies Adams Warehouse & Delivery said in response to an inquiry. "And all of that warehousing is weather-resistant. Each of our three warehouse facilities was constructed using weatherproof masonry construction. Since we're in Texas, we were especially concerned with wind damage, and our warehouse facilities were all designed with this in mind. No matter what kind of weather we get, we're confident that our customers' goods will be unaffected – and that confidence is reassuring to our customers who rely on us for world-class logistics services."
Adams Warehouse and Delivery has seen a rise in new business inquiries that center on weather-resistance and other new issues, including the need for both truck- and rail-loading and the need for "clean room" space, both of which Adams Warehouse & Delivery offer. In recent years, however, the most common questions from potential customers focus on the weather-resistance of the warehousing facilities themselves. While no hard numbers on warehouse losses during recent "super storms" are available, they are estimated to be a significant portion of the billions of dollars in overall losses these weather systems have caused.
Founded in 1976 in Houston, Texas, Adams Warehouse & Delivery today is a leading full-service logistics company. They serve customers nationwide with over 400,000 square feet of truck- and rail-accessible warehouse capacity, with both dry, climate-controlled, and "clean room" warehouse space available. Adams Warehouse & Delivery is a full service logistics company offering Electronic Data Interchange technology to track all goods from arrival to distribution through all three of their Houston-area warehousing facilities.