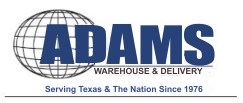 Our warehousing services are backed-up by cutting edge technology and machinery which help us improve our efficiency and deliver great customer service that you won't find anywhere else. —Fred Adams
Houston, TX (PRWEB) October 03, 2013
Adams Distribution is one of the top logistic companies, providing delivery, transportation, and warehousing services to clients in Texas and throughout the US. Alongside their warehousing and delivery solutions, Adams Distribution now provides customized packaging, picking, and kitting services from all their Houston warehouses. Adams Distribution have been in the business for more than 30 years; they use this expertise and experience to offer services that are unmatched by any other company in the state.
Adams Distribution offer shrink wrapping, repacking, custom packaging, picking, and lumper services for goods and products being shipped from their warehouses. They can also find parts, deliver goods, and source merchandise that can be sent fully wrapped and packed to retailers or suppliers quickly and efficiently. Adams Distribution are logistic professionals who can manage a client's supply chain effectively, from sourcing parts to packing and wrapping goods, and customizing kits to transporting goods safely via their reliable truck fleet.
"Since 1976, our family-run business has been fine-tuning our efficiency and expertise. You definitely won't find a superior packaging, picking, kitting, or shipping company in Texas. Our warehousing services are backed-up by cutting edge technology and machinery which help us improve our efficiency and deliver great customer service that you won't find anywhere else," asserts business owner Fred Adams.
Their commitment to supply chain management assists businesses in growing and making their own operations smoother and more efficient. Adams Distribution does this by receiving and storing goods or merchandise, keeping an accurate inventory of goods stored in their Houston warehouse, protecting and securing goods via their warehousing services, and transporting goods locally and throughout the country. No matter the size or scale of business operations, Adams Distribution has the skill, experience, and crew to make logistics easy and budget-friendly.
Customized packaging, picking, and kitting solutions are offered at their three main warehouse locations which are fully rail-serviced. This means that they can send and receive parts and goods by train delivery. They will create a custom strategy for business supply chain management, then package, pick, and build kits to individual specifications. Any special requirements can be easily handled too, such as dry space, temperature-controlled trucks, or clean room services.
Use the contact details on this page to discuss your packaging, picking, kitting, and shipping requirements in more detail with the skilled team at Adams Distribution.