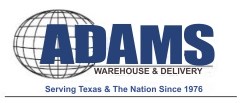 There are two key words you hear from potential warehousing customers in this business all the time, — Fred Adams
Houston, Texas (PRWEB) September 11, 2013
Knowing that competition for warehousing and logistics services in the Houston area is fierce and only going to get more competitive, one of Houston's leading logistics companies, Adams Warehouse & Delivery, has invested heavily in recent years to ensure they offer the type of modern warehouse Houston businesses require for their increasingly global and increasingly complex shipping and fulfillment warehousing services.
"There are two key words you hear from potential warehousing customers in this business all the time," owner Alfred L. Adams Jr. said. "Logistics and security. Time was, logistics meant a guy with a clipboard and a pen, and security meant a padlock and a guard. In the modern day the type of warehouse Houston demands is computerized and automated, with truck and rail access and total inventory control from start to finish, and the kind of security offered has to be technologically modern as well – and not 'security' doesn't mean just anti-theft. It means secure against the elements, too, because the weather's just getting crazier."
Towards that end, Adams Warehouse & Delivery has not only added full-service Electronic Data Interchange systems in all three of its warehouse locations, allowing for full logistics services, it has also designed and built its warehousing to careful specifications. All three of its warehouses have been designed to include sprinkler-monitored systems to be anti-fire and with video cameras that are monitored at a central station 24 hours a day. The fire-suppression systems ensure that even if a fire does break out it won't spread far, and the camera systems ensure that theft is virtually impossible, even if criminals were able to access the warehouse interior. Adams suggests he offers the most secure warehouse Houston has ever seen.
Security extends to the weather: All three of Adams' warehouse facilities were designed to be weatherproof, with high-quality masonry construction built to be wind- and rain-resistant, guaranteeing that even in the worst weather all goods will be protected.
Founded in 1976, Adams Warehouse & Delivery is the leading full-service logistics company in the Houston, Texas, and serves a nationwide slate of customers with over 400,000 square feet of warehouse capacity. All their facilities handle truck and rail deliveries, and offer dry, climate-controlled, and "clean" warehouse space. Adams is a full service logistics company – a one-stop shopping destination for all warehouse, distribution, and other logistics needs that has been serving the local business community for almost four decades.