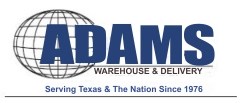 Today if you want to compete, you can't just be a warehouse company; you have to be logistics company. — Fred Adams
Houston, Texas (PRWEB) September 23, 2013
Having thrived for four decades in the warehousing and logistics business, local company Adams Warehouse & Delivery has been recognized as one of the only true Full Service logistics companies in the country. Adams Warehouse and Delivery offers fully integrated Electronic Data Interchange computer systems in all three of its warehouse Houston spaces, allowing for total control over inventory data from the moment goods arrive to the moment they are picked, packed, and shipped. Adams also offers dock warehousing services at each location, and all three warehousing facilities are rail-served as well, making logistics that much easier to reconcile.
"The days when all a warehouse did was store stuff are long gone," said current owner and operator Alfred L. Adams Jr., whose father founded the company in 1976. "Today if you want to compete, you can't just be a warehouse company, you have to be logistics company. That's what Adams Warehouse & Delivery is. We have computerized inventory tracking, rail-served warehouses, climate-controlled warehouse space – 70,000 square feet of it – as well as clean room space available. Some companies might try to scratch out a business with just dry storage in their warehouses, but our customers need to track and ship complex inventory all over the country and the world, and we need to be their partner, not just rented space."
In recent years, the shipping and warehousing industries have become more and more connected to logistics companies that make a science of tracking and moving items through the complicated road, rail, air and water traffic that moves goods around the globe. It's a natural evolution of warehouse and delivery companies like Adams to take on some of that work, Adams Jr. pointed out, and a value for the customer who doesn't have to invest in their own logistics solutions or hire separate, third-party logistics companies.
"We're full-service," Adams Jr. concludes. "And we're one of the few in the country with our capacity who can say that."
Adams Warehouse & Delivery was founded in 1976 in Houston, Texas and is today a leading full-service logistics company. With a nationwide clientèle using their 400,000+ square feet of truck- and rail-accessible warehouse capacity, they offer dry, climate-controlled and "clean room" warehouse space. Offering Electronic Data Interchange technology to track all goods from arrival to distribution through all three of their Houston-area warehousing facilities is an essential component of modern logistic companies, and one of the core technologies offered by Adams.