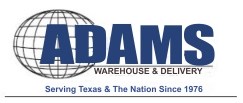 Since we also aimed for customer satisfaction, using computerized inventory tracking was the obvious way to go.
Houston, TX (PRWEB) September 09, 2013
Adams Warehouse & Delivery brings in computerized inventory providing its customers with impeccable records-keeping on logistics services. Computerizing operations is the mark of modern, successful companies, and Adams has done a brilliant job of utilizing computer technology. The warehousing company can now boast much better warehousing services delivered to its customers and continue to be among the most-preferred Houston warehouse.
A spokesperson for Adams Warehouse & Delivery commented, "'Adams' management has always recognized the importance of technology in business." He added, "Since we also aimed for customer satisfaction, using computerized inventory tracking was the obvious way to go."
This might not have been so obvious for many other warehousing businesses. Yet, Adams Warehouse & Delivery showed the vision and maturity to capitalize on computer-maintained inventory tracking, which comes with scores of benefits for the warehousing company and its clients.
Adams Warehouse & Delivery uses a custom-built inventory tracking system. This provides advanced control over the inventory that passes through their warehouses. Throughout an item's entire 'life' in Adams Warehouse & Delivery's operations, the state-of-the-art customized tracking systems delivers relevant information to its users while ensuring perfect accuracy by removing human error in stock-taking. The computerized tracking also significantly reduces the time it takes to capture the data pertaining to the items. In addition, Adams Warehouse & Delivery's tracking system lets users immediately replace illegible and/or damaged labels. Speed, accuracy and mobility are qualities that invariably translate into higher efficiency and much better client satisfaction.
The computerized inventory tracking system makes life much easier for its users as well, something that also ultimately benefits clients. Once the inventory tracking systems is installed, supervisors and other users can use it to generate any type of document they need, such as invoices and account details. Managers can even use the system to manage orders based on the real-time storage capacity as indicated by the tracking system. The tracking system also proves itself invaluable when used for items being transported.
Businesses trust warehousing companies to look after their items. Therefore, every successful warehousing and logistics company aims for complete knowledge and control over their clients' assets. This is best achieved through a custom-built computerized inventory tracking system, which is what Adams Warehouse & Delivery decided to do. The company is a family-owned and operated business, serving clients in Texas and across the country since 1976. By using this modern, customized inventory tracking system, Adams Warehouse & Delivery is able to maintain its position as the country's leading warehousing services provider.
About Adams Warehouse & Delivery
Based in Houston, Texas, Adams Warehouse and Delivery provides comprehensive services across the US. It leverages its expansive experience and resources to deliver dependable warehousing solutions at competitive costs.