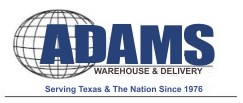 We're a customer-oriented business, and have been since my father founded the company almost forty years ago. —Fred Adams
Houston, TX (PRWEB) September 17, 2013
Leading local distribution company Adams Warehouse & Delivery has announced the complete integration of Electronic Data Interchange (EDI) technology into its warehousing services division. The cutting-edge technology will allow Adams to track every item it takes in to any of its warehouse Houston locations, comprising over 400,000 square feet of warehousing space. The EDI system can "see" every item in the warehouse from the moment it arrives to the moment it is picked, packed, and shipped according to customer specifications.
EDI is fast becoming a requirement in modern logistics, and Adams Warehouse & Delivery is one of the first major logistics companies to fully implement it throughout their operations, including the 70,000 square feet of climate-controlled warehouse space they offer. Their EDI system can display the location and status of every item in the warehouse at any time, allowing their customers to see at a glance where their merchandise is and track it from the palette to the box when orders are submitted. As a result, even misplaced or mislabeled palettes or even individual units can be located with ease, increasing accuracy and speed of order fulfillment exponentially.
"We're a customer-oriented business, and have been since my father founded the company almost forty years ago," said Alfred L. Adams Jr., current owner and operator of Adams Warehouse & Delivery. "A lot has changed since 1976 – the world market, technology, and warehousing services included. We want to be the best distribution company not just in Houston, but in the country, so we've always tried to keep up with new logistic technologies that have clear benefits for our customers. Being able to offer our customers the latest and greatest in inventory tracking tools is just part of what we do."
Founded in 1976, Adams Warehouse & Delivery is one of the leading full-service logistics companies in the Houston, Texas area, serving a nationwide slate of customers with over 400,000 square feet of warehouse capacity that handles both truck and rail deliveries easily, and offers both dry and climate-controlled warehouse space. More than just warehouse space, Adams is a full service logistics company that aims to be a one-stop shopping destination for all warehouse, distribution, and other logistics needs.