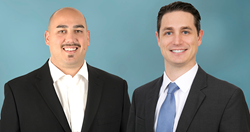 Warmington will continue to aggressively pursue new land deals throughout California and will maintain its focus on off-market and infill opportunities with an emphasis on unique projects including properties with remaining entitlement or other issues.
Costa Mesa, CA (PRWEB) March 02, 2017
Warmington Residential has announced new Presidents in its two California divisions. As of January 1, 2017, Tom Hildebrandt is President of the Costa Mesa-based Southern California division and Ryan Gerding is President of the San Ramon-based Northern California division.
Previously, Hildebrandt and Gerding were serving as Division Vice Presidents and this move represents a promotion in leadership and supports Warmington's growth and diversification goals throughout California.
In announcing the promotions, Warmington Residential President, Matt Tingler, said that both Tom and Ryan had been instrumental in the leadership and success of their divisions and that the ascension to a presidential post was a natural progression.
"As Warmington Residential continues to pursue growth via new acquisitions, Tom and Ryan are the right leaders to help us achieve our goals and I am pleased to announce their new roles. I am confident that the company will excel and expand under their direction in the regions they oversee," Tingler said.
Tom Hildebrandt was named Division Vice President in Southern California in January 2015. Under his leadership, the division acquired six deals with more than 375 units and a total projected revenue of more than $250 million. This includes Trellis and Canopy at Esencia in Rancho Mission Viejo, and Opus at Beacon Park in Irvine's Great Park Neighborhoods, in addition to two projects slated to open this year in Los Angeles,The E.R.B. in Eagle Rock and The Glen in Valley Glen. He also guided the efforts on a 9.7-acre former school site property in Cypress that was rezoned and redeveloped into a residential tract approved for 47 single-family homes and a 2.9-acre city park and then sold to another builder for in excess of $15 million.
Additionally, during this time, Tom helped facilitate the successful close-out of three single-family communities (193 units) representing a total consideration of about $100 million. Hildebrandt joined Warmington in 2006 as Land Acquisition Manager and continues to oversee and have direct involvement in all of the Southern California land acquisition and disposition efforts including most recently the sale of 178 entitled lots in three developments that were sold in separate land transactions worth more than $23 million.
Tingler added, "Tom is a natural leader and the Southern California division is in excellent hands and well prepared to meet any challenge under his direction as we continue to grow and pursue a strategic diversification plan that calls for building out some properties and entitling and selling others."
Ryan Gerding was Division Vice President in Northern California since 2015 and since that time has essentially led the day-to-day management and oversight of that division's land acquisition and disposition efforts. He joined Warmington as Director of Land Acquisition in 2010 and has maintained an impressive track record in this area. This includes the acquisition and entitlement 674 lots. Gerding has facilitated the sale of 430 lots in the past few years and has closed 15 escrows over the past five years. In the second half of 2016, Warmington's Northern California division completed three land transactions worth more than $40 million under his guidance. Further, the division built and closed out two projects, Annie Street in Daly City and Talamore in Fremont, and opened Driftsong at Wallis Ranch in Dublin. Trestle, also in Wallis Ranch, will open this month.
"Ryan is extremely bright and intuitive and I have great confidence that the Northern California division will reach its fullest potential under this leadership. We anticipate continued success with new acquisitions, land transactions, projects and home sales," Tingler said.
In 2017, Warmington will continue to aggressively pursue new land deals throughout California and will maintain its focus on off-market and infill opportunities with an emphasis on unique projects including properties with remaining entitlement or other issues.
"Our efforts will be heavily focused on reloading our land base and bolstering our pipeline. We will continue to have diversified acquisition goals and are seeking a multitude of product types that have the potential to differentiate Warmington in the marketplace," Tingler said in describing the company's 2017 strategy.
For information or land transaction opportunities, contact Tom Hildebrandt at (714) 557-5511 or Ryan Gerding at (925) 866-6700.
Warmington Residential is part of the Warmington group of companies, a full-service real estate organization that maintains expertise in residential home building, entitlements, community development, apartment construction, acquisitions, interior design and apartment and commercial property asset management. Operating in California and Nevada, the group of companies is comprised of Warmington Residential, Warmington Properties, Chateau Interiors & Design and Studio Chateau.
Warmington Residential has three home building divisions including the Southern California Division in Costa Mesa, the Northern California Division in San Ramon, and the Nevada Division in Las Vegas. Between the three divisions, Warmington Residential has approximately 15 new home communities in various stages of sales or development.
The Warmington group of companies has approximately 190 employees and began in 1926 as a custom home builder in the Los Angeles area. In 2016, Warmington celebrated its 90th year and has been recognized as a Housing Giant by Professional Builder and the Orange County Business Journal as a Fastest Growing Private Company in 2007, 2012, 2013, 2014 and 2015.
To learn more about the entire Warmington group of companies, visit thewarmingtongroup.com..