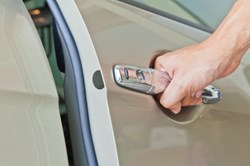 A warranty is the one piece of documentation that could save a used vehicle owner thousands of dollars when a major repair is required for a used car, truck or SUV
Bay City, Michigan (PRWEB) September 11, 2013
Used vehicles can be susceptible to a higher rate of damage as mileage increases on the engine block, according to a new report by the Auto Pros USA company. This company is now offering drivers access to its new warranties for used cars database at http://www.autoprosusa.com/auto-warranty.
Warranty policies that can be searched are provided by hundreds of different companies in local and regional sections of the United States.
The companies providing the rate and policy information represent some of the top national providers for automotive warranty coverage programs. The data selectable inside the search system is relevant for vehicles of all brands.
"A warranty is the one piece of documentation that could save a used vehicle owner thousands of dollars when a major repair is required for a used car, truck or SUV," a warranty reviewer for the AutoProsUSA.com company said.
Some warranty companies can refuse to cover a high mileage vehicle after a specific mileage amount has been surpassed. The age of a vehicle is one of the pieces of data that are factored into the decision to provide coverage for a vehicle.
The Auto Pros USA database online now offers drivers with access to companies that accept all mileage vehicles for a policy.
"We're out to help used vehicle owners specifically when researching the various types of coverage that can be purchased for foreign or domestic vehicles," the reviewer added.
The warranty information that can be extracted from the new search database online is accurate due to the insertion of data by third party providers. New providers are added as policies are reviewed before insertion into the database.
These measures are helping to introduce more owners of vehicles to policies that are able to cover major and minor damage to any vehicle type. A similar database for automobile insurance was launched recently for car owners at http://autoprosusa.com/insurance.
About AutoProsUSA.com
The AutoProsUSA.com company is now a resource that car owners in North America use to find better policies for insurance and automobile warranties. This company receives data direct from trusted companies in the automotive industry. This data is inserted into publicly accessible databases to offer no charge information. The AutoProsUSA.com company supplies information direct to consumers on its website about top products and components released in the industry. Company reviews and links to suppliers are now offered as part of a new public series in 2013.