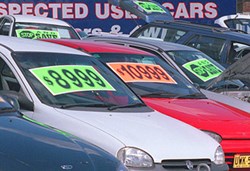 Locating a national warranty provider can provide a car owner with a backup plan that can be integrated if a vehicle is damaged or beyond the scope of the average DIY repair
Kansas City, Missouri (PRWEB) November 12, 2013
Vehicle warranty programs provide a third party protection solution for owners of vehicles to use when repairs are required. The Auto Pros company is now helping to connect owners of vehicles with warranty policies that are affordable online. These warranty solutions can be accessed using the custom built search tools at http://autoprosusa.com/auto-warranty.
The solutions that are now researched using the database of provider companies online seek to offer a better plan for protection to eliminate or reduce paid repair expenses when vehicles breakdown. Rising repair costs in many states for auto related services is one reason for the development of this new system online.
"Locating a national warranty provider can provide a car owner with a backup plan that can be integrated if a vehicle is damaged or beyond the scope of the average DIY repair," said an AutoProsUSA.com company source.
The Auto Pros company has combined its services on the company website to include more than simple warranty plan access. Databases to find insurance can be found at http://autoprosusa.com/insurance. These solutions are meant to provide a comprehensive resource for the current auto customers using this company for local and national research.
"All of the publicly accessible database tools that we provide are reviewed by our staff for accuracy and to ensure that consumer needs are met online with helpful services," the source added.
The Auto Pros company has now configured its warranty finder database online to include domestic and foreign vehicle coverage providers. Not every warranty company that a person locates offers imported vehicle protection plans.
The database of national and local providers includes coverage plans for each vehicle type popular in the United States. The actual prices charged by providers for each short or extended warranty plan are provided through the use of this new system available online at http://autoprosusa.com/auto-warranty.
About AutoProsUSA.com
The AutoProsUSA.com company provides solutions for the general public to research automotive insurance, warranty programs and auto parts and accessories online. A customer service center has been launched in 2013 by this company to handle all of the telephone and online inquiries submitted by the general public. The AutoProsUSA.com company generates updates and other modifications to the database systems that consumers use online each day to supply accuracy in content and information to the public. The parts for sale that can be sourced through this company are fulfilled by top automotive companies in the U.S.