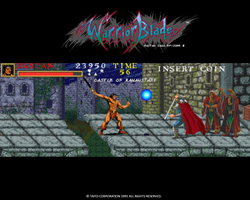 We're very happy to announce that we now have the entire RASTAN series available on iiRcade
CHICAGO (PRWEB) March 11, 2022
iiRcade Inc., a premium home arcade cabinet that allows gamers of all ages to play their favorite retro and modern games in arcade style at home, is pleased to announce that WARRIOR BLADE: RASTAN SAGA EPISODE III, officially licensed by TAITO, is now available in the iiRcade Game Store for $12.99.
The third and final installment in the RASTAN series, WARRIOR BLADE: RASTAN SAGA EPISODE III is a fantasy themed hack-and-slash action game that was released in Japanese arcades in 1992. iiRcade will launch the arcade version of WARRIOR BLADE, which features the widescreen aspect ratio that was used on dual monitors in the original arcade cabinet at the time.
In the game, up to two players can select one of three playable characters: RASTAN, DEWEY and SOPHIA to travel to the land of Depon in search of treasures. Along their journey, the medieval warriors fight their way through both horizontal and vertically scrolling levels where they'll face a number of enemies and bosses.
"We're very happy to announce that we now have the entire RASTAN series available on iiRcade," said Jong Shin, founder & CEO of iiRcade. "We're very excited and would like to thank TAITO for bringing this amazing series to our platform."
iiRcade allows for cinematic arcade gaming experiences via 19" High-Definition display, 100W Dual Stereo Speakers, Premium Arcade Joysticks and hardware and software optimized for gaming. iiRcade also has the latest features built-in, such as WiFi 5, Bluetooth 4.2 and HDMI-Out, that bring immersive arcade experiences to today's gamers.
Each iiRcade comes with 11 pre-loaded games: Dragon's Lair, Double Dragon, Gunbird, Beach Buggy Racing, BombSquad (online multiplayer party game), Snowboard Championship, Diver Boy, Dragon Master, Maniac Square, Twin Brats and Fancy World.
All games are officially licensed and available at affordable prices, and new titles are continuously added to the growing iiRcade store library. The iiRcade Store can be accessed on phones or via browser on PC or Mac through the iiRcade store link. The full list of currently available games can also be found on the iiRcade store.
For more information and to order iiRcade, visit iiRcade.com.
About iiRcade
iiRcade is a premium home arcade console that offers a gaming experience like no other. Play the retro arcade games that you remember and the latest modern games in amazing arcade style. With cinematic gaming experiences powered by 19" high-density display, 100W of powerful stereo sound, premium 2-player arcade controllers and device optimized for the best arcade gaming experiences, iiRcade delivers arcade gaming that is so immersive, you will feel like you are inside the game.
About TAITO Corporation:
TAITO Corporation (TAITO) is a wholly-owned subsidiary of Square Enix Holdings Co., Ltd. With headquarters in Tokyo, Japan, TAITO operates core businesses such as game arcade operations, manufacturing coin-operated game machines, and mobile phone content services. A seminal part of gaming history, TAITO caused a worldwide sensation with its arcade legend, SPACE INVADERS, and developed such fan favorites as PUZZLE BOBBLE (BUST-A-MOVE) and ARKANOID. Today, TAITO continues to thrill game lovers of all generations by offering both classic and new family-oriented titles on the latest gaming platforms. TAITO delivers a wide range of entertainment experiences with the goal of providing consumers with fresh surprises and new discoveries. More information on TAITO can be found on the Internet at https://www.taito.co.jp/en.