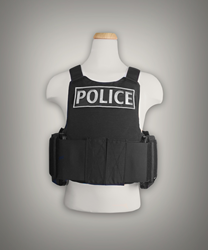 By teaming up with ShotStop, Warrior Trail now distributes lifesaving ballistic technology that is lighter, stronger and lower cost than what's currently available.
FAIRFAX, VA. (PRWEB) April 12, 2017
Warrior Trail Consulting, well known for its non-ballistic training body armor, introduces advanced ballistic protection solutions to law enforcement, military bases, security forces and first responders through a partnership with ShotStop Ballistics LLC.
"In the ballistic protection market, the three most important considerations are weight, performance and cost," said Larry Bronstein, executive director for Warrior Trail. "By teaming up with ShotStop, Warrior Trail now distributes lifesaving ballistic technology that is lighter, stronger and lower cost than what's currently available."
Warrior Trail worked closely with ShotStop to leverage their advanced ballistics technology and help bring their lifesaving technology to market. ShotStop's patented Duritium® material uses advanced technology ultra-high, molecular-weight polyethylene manufacturing methods to achieve an ultra-light and more durable product than any others on the market. At 2.7 psf, the 100-percent polyethylene body armor plates have one of the lowest areal densities available.
Certified by National Institute of Justice as compliant with NIJ Standard 0101.06 for Level III+, the stand-alone, multi-curved and multi-hit plates provide ballistic protection against high-velocity rifle threats. A polyurea coating protects the durable plates from water, body fluids, fuels and moisture, making them ideal for use in maritime environments. They also float.
Warrior Trail's new active shooter response vest is specifically designed to accommodate the ballistic plates. The vest weighs less than 11 pounds when fully equipped with front, back and side plates.
Warrior Trail started researching available ballistic protection solutions after many customers inquired if the company could make lighter and stronger ballistic body armor than the current ceramic and metal products on the market. "Increased terrorist threats and violent crime challenged us to research better body armor solutions to enhance protection for military and law enforcement professionals, security personnel and first responders like firefighters and emergency medical technicians," said Bronstein. "Thanks to ShotStop, we can now equip our customers with industry-leading, lifesaving technology. "
Warrior Trail also has developed a complete and customizable active shooter response kit that includes both the vest and ballistic plates. "Regardless of location or duties, today's law enforcement and first responders must be able to immediately deal with active shooter incidents," said Bronstein. "The response kit, ideal for a squad car or fire truck, means that powerful, lifesaving ballistic protection is readily available."
Warrior Trail is ShotStop's first authorized ballistic products distributor. All ShotStop and Warrior Trail ballistic products are manufactured in the United States and have a limited 5-year warranty. Initial sales are restricted to the U.S.
About Warrior Trail Consulting, LLC: Founded in 2008, Warrior Trail Consulting manufactures non-ballistic training small arms protective inserts and enhanced SAPI plates, and non-ballistic BALCS-compatible soft body armor insert panels. Warrior Trail also designs and sells tactical vests and plate carriers, low profile vests and active shooter response vests for law enforcement, the military and first responder professionals. In partnership with ShotStop Ballistics, Warrior Trail distributes ultra-light, 100 percent polyethylene ballistic body armor plates NIJ-certified to Level III+. All Warrior Trail products are manufactured in the U.S. Visit warriortrail.com for more information.
About ShotStop Ballistics LLC: Since 1984, the engineering wing of ShotStop Ballistics LLC has provided innovative, patented solutions to Fortune 500 companies and small businesses. Located in Stow, Ohio, ShotStop now provides lifesaving ballistics protection solutions using patented Duritium® technology. Visit http://www.ShotStop.net for more information.