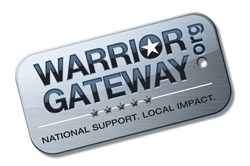 Arlington, VA (PRWEB) November 09, 2013
From 10:30 -11:30am EST today, Warrior Gateway will be unveiling the first completed mural a part of their Patriots in Paint initiative at the Jericho Project's Veterans Residence at Kingsbridge Terrace in the Bronx, NY. Warrior Gateway's Patriots in Paint initiative, a program designed to build a strong network of community involvement through art, activities and multi-media platforms by painting large scale murals honoring the military in communities across the country. The mural depicts historic and modern images of the five difference branches of service and will serve as the backdrop to a half basketball court for the residents.
"The Patriots in Paint initiative uses murals to honor service and sacrifice in the military community," said Warrior Gateway CEO Devin B. Holmes. "We are excited to unveil the first of many murals with mural artist, Sam Welty at the Jericho Project in the Bronx in partnership with the Veteran Artist Program. We are looking forward to many more murals in the coming year."
Mural artist Sam Welty led the charge in designing and painting the mural, which took a week to complete beginning on October 28th. Residents and staff volunteered their time throughout the week to contribute to the completion of the 70-by-15 foot masterpiece. Those in the greater New York City region are invited to attend the dedication ceremony which will take place onsite at the Jericho Project's Kingsbridge Terrace located at 2701 Kingsbridge Terrace, Bronx, New York. The dedication ceremony is part of the Veteran Artists Program's Arts & Service Celebration.
About Warrior Gateway™: Founded in 2009, Warrior Gateway connects service members, military families, wounded warriors, families of the fallen and our nation's veterans with government and non-profit programs in their local community. Warrior Gateway harnesses state-of-the art technology and community collaboration to help today's military community make better decisions about what service provider they can go to for help. Their programs provide a public forum where people can share their experiences about the quality and effectiveness of those services. In 2011, Warrior Gateway's efforts were recognized with the Federal Computer Week Fed-100 award for significant contributions to the Federal IT community and in 2012 with a ComputerWorld Honors Laureate for our innovation in creating an open-source platform for information sharing. A proud partner of the Got Your 6 campaign, Warrior Gateway works to bridge the civilian-military divide with non-profit and government partners. Warrior Gateway is an IRS registered 501(c)3 organization. For more information, please visit: http://www.warriorgateway.org
About Jericho Project: For 30 years, Jericho Project has enabled formerly homeless or at-risk individuals to envision – and achieve – better futures for themselves. Now serving 1,500 individuals and families annually, Jericho's results-based programs touch the cornerstones of their residents' lives – housing, employment, wellness and family stability – and provide the supportive environment and homelessness prevention to help them achieve and sustain their goals.
Jericho's two Veterans Residences, Kingsbridge Terrace and Fordham Village, are part of its Veterans Initiative. They are communities of wellness with beautifully-designed and furnished studio apartments, community and computer rooms, gyms and gardens. There men and women veterans can access the specific counseling they need – whether they are coping with substance abuse or PTSD, seeking education and jobs, or reuniting with their families.
Forty percent of the units at both residences are for low-income veterans from the community, with priority given to veterans returning from the wars in Iraq and Afghanistan. Sixty percent are for veterans who have a history of homelessness, substance abuse, and/or mental health issues.