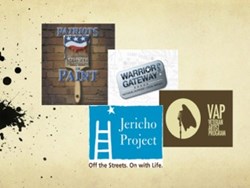 The Veteran Artist Program is hosting the Arts & Service Celebration in partnership with Warrior Gateway to honor veterans in the arts with a week full of exciting projects and events in NYC during the first week of November.
Arlington, VA (PRWEB) October 03, 2013
Award winning nonprofit, Warrior Gateway invites veterans to join them in New York City from November 2nd-11th for the Veteran Artist Program Arts & Service Celebration presented by Warrior Gateway. The Celebration includes a week of service projects, networking, social and professional events for veterans interested in the Arts as well as public events for everyone to enjoy. This event also marks the launch of Warrior Gateway's Patriots in Paint initiative, which is designed to build a strong network of community involvement through art, activities and multi-media platforms through the creation of large-scale murals honoring the military in communities across the country. Muralist Sam Welty will paint the first mural during the last week of October at the Bronx location of the Jericho Project; which enriches the lives of chronically homeless veterans just in time for an unveiling during the Arts & Service Celebration.
Events throughout the week include: helping to paint a 70x15 foot outdoor mural honoring military service with mural artist Sam Welty; a personal branding workshop with Artists Striving to End Poverty (ASTEP); a creative pitch workshop and professional pitch panels in film, theater and literary works at Empire State College in SOHO for military veterans seeking an outlet for their unique creative projects; a documentary film shoot with the Society of Artistic Veterans; an information session with a SAG-AFTRA representative and culminating events at the Fashion Institute of Technology including seven military veterans turned artists performing in The Telling Project and much more! Events, service projects and networking opportunities will be added daily.
"There is a great pool of creative talent within the veteran community and we are planning for this event to expand that network and show the arts and entertainment world what military veterans have to offer," said Veteran Artist Program Founder, BR McDonald.
"We are thrilled to have the opportunity to celebrate veterans by bringing the arts, service and the community together through collaboration with other military non-profits in New York City during Veterans week," said Warrior Gateway's Chief Operating Officer, Kelly Finn Störmer.
The Veteran Artist Program Arts & Service Celebration seeks to support veterans who have chosen to pursue a career in the arts, as well as connect valuable organizations to the military community in a fun, festive environment. The week will culminate in special events and workshop performances tailored to the military and arts communities. All veterans are invited to join the celebration and participate in the ASC's free workshops and panels by reserving a spot here: http://vap-nyc.org/events-2. Additional information about the event, including sponsors, schedule of events, and tickets can be found at http://vap-nyc.org.
About Veteran Artist Program: Founded in 2009, VAP focuses on propelling veterans into the mainstream creative arts community through networking, mentorship, collaborations and original productions. VAP fosters and promotes veterans in the arts by encouraging them to pursue their passion in an intentional way. Since 2009, VAP has worked with veterans and organizations in Baltimore, Washington, DC, Chicago, Orlando, San Diego, San Francisco and New York. VAP has produced five music/theatrical live events, filmed two documentaries, one feature film, curated gallery exhibits, provided videography/photography services, and helped organize more than 30 community improvement projects, including painting two murals in Baltimore. For more information, visit: http://www.veteranartistprogram.org.
About the VAP PSA: In preparation for the event, the VAP created a commercial filmed in two days at Rollin Studios in Brooklyn, NY. This project was led by 15 veterans (including the entire cast) who created the idea, wrote the script, led the production and brought together a cast and crew of over 30 people. In addition to producing the piece, VAP brought on industry professionals such as Frankie Demarco, Mad Men Director of Photography, and Whitney Dow, documentary film producer, to mentor the vets and help mesh their intangible skills as military veterans into their new found love of filmmaking. This commercial is a great example of what the Veteran Artist Program is ultimately trying to achieve with the Arts & Service Celebration: partnering with industry professionals and gathering a community of veterans with an interest in the arts and encouraging them to take advantage of the vast opportunities in New York City to learn, create and succeed in their artistic endeavors. Check out the PSA here: http://www.youtube.com/watch?v=PTHfabYxXRk.
About Warrior Gateway™: Founded in 2009, Warrior Gateway connects service members, military families, wounded warriors, families of the fallen and our nation's veterans with government and non-profit programs in their local community. Warrior Gateway harnesses state-of-the art technology and community collaboration to help today's military community make better decisions about what service provider they can go to for help. Their programs provide a public forum where people can share their experiences about the quality and effectiveness of those services. In 2011, Warrior Gateway's efforts were recognized with the Federal Computer Week Fed-100 award for significant contributions to the Federal IT community and in 2012 with a ComputerWorld Honors Laureate for our innovation in creating an open-source platform for information sharing. A proud partner of the Got Your 6 campaign, Warrior Gateway works to bridge the civilian-military divide with non-profit and government