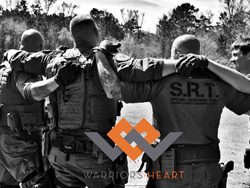 We are honored to serve our warriors in their healing as they have served us on the front lines. ~ Lisa Lannon, Warriors Heart Co-Founder and Former Law Enforcement Officer
San Antonio, Texas (PRWEB) April 12, 2016
Warriors Heart officially opened as of April 6, 2016, as the first private addiction center for "Warriors Only" (veterans, military, police officers and first responders) in the US, on a 543-acre ranch in Bandera, Texas (just outside San Antonio). Warriors Hearts mission is to help warriors (men and women, 18 and older) heal through unique peer-to-peer programs, and reduce the 22 veteran suicides per day and one police officer suicide every 17 hours in the US.
A dedicated team of warriors has been answering the Warriors Heart 24-hour hotline (844-448-2567) for a year, they purchased the property in December 2015, and are now officially licensed by the Texas Department of State Health Services to serve clients based in the US and abroad.
Warriors Heart will provide "warriors healing warriors" programs to help the over 13.3 million American military, veterans, law enforcement and first responders faced with the self-medicating struggles of alcohol addiction, prescription and drug addiction, PTSD (post traumatic stress disorder), mild psychological effects of TBI (Traumatic Brain Injury) and other mild co-occurring disorders (dual diagnosis).
With decades of experience, successful private treatment facility providers Josh and Lisa Lannon (former Law Enforcement Officer) and Tom Spooner (former Special Forces and Mission 22 Co-Founder) are leading the Warriors Heart team on this special mission to heal warriors. Warriors Heart Co-founder Lisa Lannon shared, "We are honored to serve our warriors in their healing as they have served us on the front lines."
What makes Warriors Heart different from the VA (Veterans Administration) and other facilities is that their "Warriors Only" program treats the "whole body", including chemical dependencies, PTSD and other mild co-occurring disorders together versus waiting for days to see individual specialists. Other facilities treat warriors, however; the clients are incorporated into overall addiction treatment programs versus a private "Warriors Only" program run by warriors. The 4 core programs include:
1. Warriors Only Residential Treatment (28-day residential treatment program)
2. Warriors Only Sober Living (60 Day Minimum, coming soon).
3. Warriors Only Outpatient (2 days a week, coming soon)
4. Warriors Only Day Treatment (coming soon)
The new Warriors Heart healing center (formerly the Purple Sage Ranch) includes 40 beds, a lake, private chef, Elder Heart Shop (steel art class), Operation Overwatch class (animal assisted therapy), nature trails, and beautiful amenities –all to ensure the warriors can heal with dignity and respect, while going through therapy.
The Warriors Heart team includes licensed clinical professionals; admissions advocates and training experts, including medical doctors trained in addiction with decades of experience helping warriors heal.
Warriors Heart Clinical Director Annette T Hill has a decade of experience working as a dual diagnosis therapist in residential treatment settings, and specializes in trauma. Annette has worked with veterans both in her private practice, along with a non-profit program called Operation Freedom Bird as a volunteer therapist and board member. Annette is also a Gold Star Mother. Her son, Adam Hill Gibson, served two tours in Iraq and passed way as a result of symptoms of PTSD in 2009.
Former Special Forces Operator and Warriors Heart Co-Founder Tom Spooner served for 20 years, including in Iraq and Afghanistan, and knows first-hand the pain of war. Tom was almost 1 of the 22 veterans who commit suicide per day in the US, and openly shares his healing journey. Tom believes the Veterans Administration (VA) is overwhelmed with the backlog of 15 years of war, and is proud to be part of the Warriors Heart team.
Warriors Heart Co-Founders Josh and Lisa Lannon have a strong WHY for opening Warriors Heart. The couple founded Journey Healing Centers (residential treatment centers in Arizona and Utah) in 2002 after Josh completed a residential treatment program, and later sold the business to Elements Behavioral Health in 2013. Warriors Heart will be their seventh healing center. The Lannons are also co-authors of "The Social Capitalist", honorary members of YPO (Young Presidents Organization) and have dedicated their lives to assisting others.
Warriors Heart has also partnered with Mission 22 as the solution-side for healing warriors from chemical dependency. A special Mission 22 Memorial is currently being installed at the ranch.
While insurance will cover most costs, Warriors Heart started Operation Warriors Heart Foundation that anyone can donate too. The contributions will subsidize the cost of those that cannot pay for treatment or don't have insurance. One-time or recurring donations can be made: http://www.operationwarriorsheart.org
Media Contact
Liz Kelly, Goody PR, 310-987-7207
About
Warriors Heart peer-to-peer based solution and addiction specialist team have been featured in Forbes, Chicago Tribune, KENS5 CBS News San Antonio, FOX 10 News Phoenix, Addiction Pro Magazine, K-LOVE Radio and more. Anyone can call Warriors Heart Hotline 24x7 to help a loved one get help: 844-448-2567 or visit http://warriorsheart.com