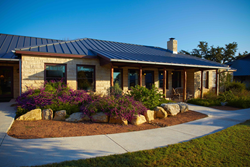 We are honored to acquire the Purple Sage Ranch from the Chase Family, and are grateful to Sonora Bank and our investors for making this all possible. ~ Lisa Lannon, Warriors Heart Co-Founder and Former Law Enforcement Officer
San Antonio, Texas (PRWEB) December 23, 2015
Warriors Heart announced today that they have acquired the former Purple Sage Ranch from the Chase Family (Mack and Marilyn Chase), 756 Purple Sage Road, Bandera, Texas, 78003, just outside of San Antonio, Texas, that will be the first private addiction healing center in the US for warriors only, including veterans, military, law enforcement, first responders and other warriors.
Warriors Heart is dedicated to healing warriors from addiction and PTSD (post traumatic stress disorder). To support their mission, the 3 founders have decades of experience in successfully running addiction treatment centers (Josh and Lisa Lannon), along with being a former Law Enforcement Officer (Lisa Lannon) and former Special Forces Operations (Tom Spooner with 21 years of military experience and 12 deployments).
As a former Law Enforcement Officer and addiction treatment center owner, Lisa Lannon shared, "We are honored to acquire the Purple Sage Ranch from the Chase Family, and are grateful to Sonora Bank and our investors for making this all possible. We spent a long time looking for the right property, and we feel that this ranch will provide a great healing environment for our Warriors."
The Chase family of Mack Energy and Caza Ranches, previously hosted soldiers from Wounded Warriors Project as part of their Chase Foundation work, and connected with the Warriors Heart Founders. Mack C Chase's foundation vision is "to give people a chance to improve their quality of life for the well being of community and family", which is in complete alignment with the Warriors Heart mission of warriors healing warriors. Even though the property was not for sale, they agreed to sell Purple Sage Ranch to Warriors Heart.
Working with Sonora Bank, a family owned community bank that funded the project, Warriors Heart is honored to have such a community-banking leader on the team. Sonora Bank has also dedicated this year's holiday card to our protectors with the message; "thanking those entrusted with our security and safety".
With an estimated 13.3 million warriors suffering from Addiction and PTSD in US, we are facing a serious epidemic that must be addressed. With over 1 million warriors taking prescription opioids, and half of them are using them chronically, Warriors Heart is dedicated to healing "our protectors."
When asked in a recent Fox 10 News interview whether our country has failed the veterans, Former Special Forces and Warriors Heart Co-Founder Tom Spooner shared, "While the VA (Veterans Administration) has good people, they cannot keep up with 14 years of war, and they are not treating the whole person."
The Warrior's Heart team will include former warriors and professionals, who have developed a special 6-week program that treats "the whole person", through different modalities and healing versus going to multiple doctors and offices.
Warriors Heart is dedicated to healing our warriors and their families with a unique peer-to-peer healing center for warriors only. The center is built by warriors, for warriors. Warriors will find comfort being with a network of people who understand their struggles first-hand.
Warriors Heart is scheduled to open in February 2016 and is currently answering a 24x7 help hotline: 844-448-2567.
When asked about who is calling, CEO Josh Lannon explained, "Who generally calls is the loved ones, the ones who've identified the problem,…and we provide a support network, and eventually, we talk to the warrior themselves. So whoever is on the call is a fellow warrior, someone who's been there, done that, they understand. And we have resources available so we can connect with someone from their branch."
The Warriors Heart program is covered by most insurance. A Foundation has also been created, Operation Warriors Heart Foundation, and people can make donations to support a warrior in need of financial support for the healing program. This 501(c)(3) will help supplement the cost of treatment and assist in placing service dogs for free to those who deserve the extra battle buddy when returning home.
With year-end giving at a peak over the holidays, anyone can also contribute the Go Fund Me Campaign for the Operation Warriors Heart Foundation.
Media Contact
Liz Kelly, Goody PR, 310-987-7207
About
With decades of experience in addiction healing, military service and law enforcement, the 3 Warriors Heart Founders are dedicated to serving warriors. Successful Private Treatment Facility Providers, Josh and Lisa Lannon and former Special Forces Tom Spooner (Green Beret and Mission 22 Co-Founder) are leading the team on this special mission of warriors healing warriors. Warrior's Heart currently has warriors answering hotline calls 24x7, and anyone can call for help: 844-448-2567. While the facility is not opening until February 2016, they are currently placing people in other treatment centers through their vast network of providers.
Warriors Heart Hotline for veterans and first responders: 844-448-2567.
http://warriorsheart.com