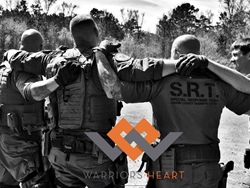 We are extremely fortunate and truly humbled to have such amazing and talented individuals as part of the board from all Warrior classes and the business world with a wide range of backgrounds. ~ Josh Lannon, Warriors Heart Founder
Bandera, Texas (PRWEB) April 13, 2017
Warriors Heart, a first of its kind Residential Treatment Center solely dedicated to Warriors, announces their new Foundation Honorary Board of Advisors and results of their first official meeting on March 31, 2017. This new board includes a vast combination of experience including Military, Veterans, Law Enforcement, Fire Firefighters, along with business and community leaders.
Warriors Heart Founder Josh Lannon welcomed this new Honorary Board of Advisors, "We are extremely fortunate and truly humbled to have such amazing and talented individuals as part of the board from all Warrior classes and the business world with a wide range of backgrounds in starting and selling businesses, venture capital, and experience working on boards of directors for non-profit organizations."
Topics discussed at the first Honorary Board of Advisors meeting with the Warriors Heart executive team included programs for Post-Traumatic Stress and addiction treatment, K-9 Service Dogs Program ("healing from both ends of the leash"), therapy through art, strategic planning, and a tour of the facility which is located on a 543-acre ranch in the Texas Hill Country north of San Antonio, Texas.
Warriors Heart Executive Director and US Army Colonel (Ret) Joe Brown explained to the new board members, "Warriors Heart provides inpatient treatment for chemical dependency, alcohol abuse and co-occurring psychological disorders relating to PTSD (Post-Traumatic Stress Disorder). As a former executive retreat center, Warriors Heart can accommodate 40 resident patients at a time with separate lodging buildings with private and shared suite-like rooms—which rival any hotel with a top Trip Advisor rating."
Following this meeting, new board member, Robert Avsec, Executive Fire Officer, published in his blog: "…and nothing about it 'screams out' medical facility of any type…The founders of Warriors Heart …set out to create a space that looks and feels comfortable because they knew the healing process can be uncomfortable, but the individual's surroundings don't have to be. No white walls or glaring lights here!"
After the meeting, Warriors Heart Founder Josh Lannon commented, "This group of leaders and experts were invaluable engaging our management team and believing in the mission of Warriors healing Warriors. Their combined executive experience, knowledge, and passion for supporting our nation's Warriors are tremendous assets in our early stage as an organization."
Warriors Heart Foundation Honorary Board of Advisors members present included:     
Robert Avsec, Executive Fire Officer
Michael J Bouchard, Sheriff Oakland County Sheriff's Office, MI  
MG(R) Charlie Fletcher US Army, Former COO WWP
MG(R) Terry Juskowiak US Army, Former IBM Executive
John Lovett, Founded River City Builders, Inc. in New Braunfels
LTG(R) Ray Mason US Army, CEO Army Emergency Relief Fund
CSM(R) Jeff Mellinger, Former US Army Ranger, Bell Helicopter
Clarence McAllister, Founder & CEO of Fortis specializing in vertical and horizontal construction 
Luis Moreno, Bandera County Sheriff's Department
CAPT(R) Mike Plunkett US Navy, President of Alphatec Spine
Rod Sands, Served as President and COO of Pace Picante
MG(R) Sim Trombitas, Chairman of the Board, Green Beret Foundation
Darren Weeks, Entrepreneur and Investor
Tom Wheelwright, CPA, CEO & Founder ProVision - CPA Firm
Additional Warriors Heart Honorary Board of Advisors members unable to attend this meeting include:
Kyle Lamb (SGM (R), Founder Viking Tactics, Inc.)
Max Martini (Actor) Martini starred in Michael Bay's "13 Hours" (2016) for Paramount Pictures.
Dr Nancy Glass, R.N., Ph.D., Founder Operation Honor Our Heroes; Professor at Austin Community College
COL(R) Chris "Elroy" Stricklin, Former Thunderbird Pilot and Award Winning Leadership Author/Keynote Speaker
MG(R) Mark Graham US Army, Director, Vets4Warriors
The next Warriors Heart Foundation Honorary Board of Advisors Honorary meeting will be held in the October 2017 timeframe. Prior to this meeting, additional board members will be added.
Media Contact
Liz Kelly, 310-987-7207
About Operation Warriors Heart Foundation 
Operation Warriors Heart Foundation is a 501 (c)(3) non-profit organization established to help subsidize the cost of treatment for those who don't have insurance or don't have the funds to private pay for treatment or continuation of care. http://www.operationwarriorsheart.org/
About Warriors Heart (Bandera, Texas, near San Antonio):
Warriors Heart is the first private treatment center for warriors only (military, veterans and first responders) in the US for addiction and PTSD founded by Josh Lannon, Lisa Lannon and Tom Spooner. This rehabilitation program provides a peer-to peer based solution to help the over 13.3 million American Warriors faced with the self-medicating struggles of alcohol addiction, prescription and drug addiction, PTSD (post traumatic stress disorder) and mild TBI (Traumatic Brain Injury) in a private, 40-bed facility on a 543-acre ranch. While other rehabilitation centers have a veteran track, the veterans are still mixed with civilians during treatment compared to Warriors Heart that is soley dedicated to warriors. Warriors Heart work has been featured in Forbes, Chicago Tribune, CBS Health Watch, KENS5 CBS News San Antonio, FOX 10 News Phoenix, PoliceOne, Woman's Day and Addiction Pro magazine. There is a 24-hour Warriors Heart hotline (844-448-2567) answered by warriors. http://warriorsheart.com