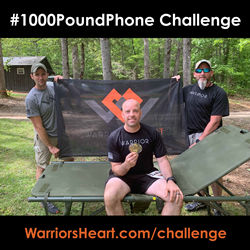 Former Green Beret, Warriors Heart Alumni and recovered drug addict/alcoholic Ted Lanier chose 1,000 miles as the running challenge in sync with urging his fellow warriors (military, veterans and first responders) to "pick up that '1000-pound phone' and ask for help."
SAN ANTONIO (PRWEB) September 27, 2022
In sync with September's National Recovery Month and Suicide Prevention Month, Former Green Beret, Warriors Heart Alumni, and recovered drug addict/alcoholic Ted Lanier announces a "1000 Miles Healing Warriors Challenge" to raise awareness of how Warriors Heart's peer-to-peer healing program is saving lives and removing the stigma and shame of seeking help for addiction, PTSD and co-occurring issues. After getting sober 5.5 years ago at Warriors Heart, Lanier's new mission is to help heal his fellow warriors (military, veterans, and first responders), and let them know about this unique "warriors healing warriors" program.
Lanier chose 1,000 miles as the running challenge in sync with urging his fellow warriors to "pick up that '1000-pound phone' and ask for help." After overcoming a long addiction to alcohol and drugs, Lanier got sober April 20, 2017, at Warriors Heart, which he says "saved his life." It's the first and ONLY private and accredited peer-to-peer healing center in the U.S. that is exclusively for warriors struggling with addiction, PTSD, mild TBI, depression, anxiety, trauma, and co-occurring issues.
For the past 18 months, Lanier has been leading a Warriors Heart team that has run 12 marathons throughout the North Carolina area, which includes alumni, supporters, and fellow veterans. Together, they have run over 3,300 miles, and Lanier has personally run over 780 miles in mountain and marathon runs. This running team carries the Warriors Heart flag and wears Warriors Heart t-shirts to remind frontline protectors that help is available.
Warriors Heart has a full continuum of care (Detox, In-Patient, Outpatient, Sober Living, and Aftercare), to help warriors rebuild their lives with new tools and replace bad habits with good habits, which includes athletics (gym, hiking, running, jiu jitsu and more).
Lanier explains why running is so healing for him, "To me, it's all about challenges. With challenge, brings change and that change is the positivity that drives me. It strengthens me. It gives me hope. It fuels my mind and body allowing me to accomplish anything I desire and to inspire others to overcome insurmountable odds as well."
Lanier describes his fellow teammates Aaron Marshalek and Mike Fiocca as; "Both of these guys have over a year of sobriety, have become accomplished mountain trail marathon runners, and are crushing life in general!"
Fellow Warriors Heart Alumni, Veteran, and Team Member Aaron Marshalek has run 1,346 miles, and reflects, "Running has become my main recovery mechanism. It makes it even better when I have fellow Warriors Heart Alumni to run with. Running has provided me an avenue to focus on my physical health as well as my mental health while being outside in nature with like-minded individuals all trying to make it one step at a time, one day at a time."
Senior Medical Sergeant at U.S. Army and Team Member Mike Fiocca has run 1,203 miles, and explains his personal WHY behind this running challenge; "The races for me are all about inspiring and motivating others. Training for me is aimed at my race objective, but it really helps me exercise good habits and discipline every day. It also reminds me that with each day, if we are not actively living, then we are by default passively dying. I choose to live, I choose to dream, I choose to achieve and inspire others to do the same."
Lanier's Warriors Heart running team's next marathon is planned for December 2022, and he encourages warriors and supporters to accept his challenge to run 1000 miles to raise awareness of Warriors Heart's "Strength Through Healing" program.
For anyone who accepts Lanier's challenge, please post your running photos and video on social media and tag @warriorshearthealing on Instagram or Warriors Heart on Facebook – and use the hashtag #1000MilesHealingWarriorsChallenge or #1000MilesWarriorsHealingWarriors or #1000PoundPhone or visit https://www.warriorsheart.com/challenge
Media Contact for Warriors Heart:
Liz Kelly, 310-987-7207
ABOUT TEDDY LANIER: Former Green Beret, Warriors Heart Alumni, Executive Director Operation Warriors Heart Foundation (separate entity from the Warriors Heart Facility) Ted Lanier served for 22 years (1989-2011), including 10 years in the U.S. Army and 12 years in Special Forces. Lanier is honored to be the new Warriors Heart Foundation Executive Director to help fellow warriors win their "War At Home" against drug and alcohol addiction, PTSD, and co-occurring issues. Lanier was deployed five times to combat in Iraq and Afghanistan, and adjusting back to civilian life brought many challenges. Lanier overcame a 17-year opiate addiction after attending Warriors Heart residential treatment program in April 2017. To give back, Lanier is speaking publicly about his story. Teddy says, "If all I do is save one person, then I am happy to share my story with the world." Lanier has shared his story on the TODAY Show, WRAL NBC News Raleigh, Dr Drew Midday Live, and more. https://www.warriorsheartfoundation.org/board-of-directors/
ABOUT: WARRIORS HEART(Bandera, Texas near San Antonio) is the first and only private and accredited treatment program in the U.S. exclusively for "warriors" (active duty military, veterans, first responders, and EMTs/paramedics) faced with the self-medicating struggles of alcohol addiction, prescription and drug addiction, PTSD (post-traumatic stress disorder), mild TBI (Traumatic Brain Injury) and other co-occurring issues in a private, 60-bed facility on a 543-acre ranch. Along with a minimum 42-day peer-to-peer residential treatment program, Warriors Heart gives "warriors" the option of Detox, Day Treatment, Intensive Outpatient Program (IOP), Sober Living (60-day minimum), and Aftercare. Warriors Heart's work has been featured on the TODAY Show, CBS Health Watch, A&E Intervention, KENS 5 CBS San Antonio, National Defense Radio Show and in TIME, Forbes, The Chicago Tribune, Addiction Pro magazine, Stars and Stripes, and many more. There is a 24-hour Warriors Heart hotline (844-448-2567) answered by warriors. https://warriorsheart.com