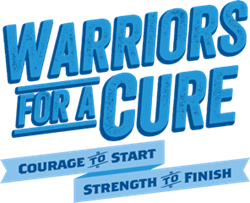 Together we can make every mile matter to raise awareness for this terrible disease that is under-researched and underfunded. If you're on the move in Fairfield County, we want you on our team, logging miles and going the distance with us. ~ Jeff Snyder
Norwalk, CT (PRWEB) August 26, 2014
The freshly renamed "Warriors for a Cure" are challenging all of Fairfield County – including Norwalk, Wilton, Fairfield, Westport and more – to join their winning team and log more than 10,000 miles in the 2014 Alex's Million Mile - Run. Walk. Ride. to raise funds and awareness for critical childhood cancer research.
Norwalk-based Inspira Marketing Group and LogicSource will match the donations of all team members during the month of September and are challenging other Fairfield County businesses to do the same. Companies interested in matching donations should contact Inspira Marketing's Gina Cook at 203-939-1300 or LogicSource's John Keaten at 212-784-5701 for more information.
As the "Wilton Curriors," the team topped the leaderboard in fundraising in 2013, raising more than $65,000, and clinching a spot as a top five finisher in miles logged. This year, as Warriors for a Cure, the team expects to far exceed last year's tallies and is already racing to the top of the fundraising leaderboard in the days leading up to the competition.
"It's time to break out the sneaks, dust of the bikes and get ready for this year's Million Mile – Run. Walk. Ride," said team leader Jeff Snyder, whose daughter has battled cancer from an early age. "Together we can make every mile matter to raise awareness for this terrible disease that is under-researched and underfunded. If you're on the move in Fairfield County, we want you on our team, logging miles and going the distance with us. We know Fairfield County can get us 10,000 miles closer to a cure for childhood cancer."
Alex's Lemonade Stand Foundation has expanded the event to include cycling in 2014 and encourages runners, walkers and bikers nationwide to register at AlexsLemonade.org to log miles from September 1 to September 30. Miles can be manually entered online or automatically logged through the convenient MapMyFitness app. September is National Childhood Cancer Awareness Month. Fairfield County participants wishing to join the Warriors for a Cure team can do so through the team's dedicated page. Registration is free and open to individuals, fitness groups, school track teams, gyms, cycling clubs, etc.
Organizers will kick off this year's event with a Labor Day 5k race in New York City's historic Pier 46 in Hudson River Park at 11:00 am on September 1. Registration for the race is free and participants will receive a complimentary kick-off t-shirt.
Supporters and participants can maximize their miles by designating Alex's Lemonade Stand Foundation as their charity of choice when shopping at Amazon.com. Simply visit Smile.Amazon.com and enter "Alex's Lemonade Stand Foundation", and a percentage of all purchases will be donated to ALSF.
About Alex's Lemonade Stand Foundation
Alex's Lemonade Stand Foundation (ALSF) emerged from the front yard lemonade stand of cancer patient Alexandra "Alex" Scott (1996-2004). In 2000, 4-year-old Alex announced that she wanted to hold a lemonade stand to raise money to help find a cure for all children with cancer. Since Alex held that first stand, the Foundation bearing her name has evolved into a national fundraising movement, complete with thousands of supporters across the country carrying on her legacy of hope. To date, Alex's Lemonade Stand Foundation, a registered 501(c)3 charity, has raised more than $80 million toward fulfilling Alex's dream of finding a cure, funding over 450 pediatric cancer research projects nationally. For more information on Alex's Lemonade Stand Foundation, visit AlexsLemonade.org.