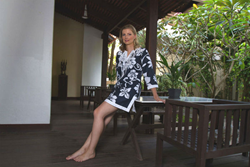 We sell philanthropic fashion, meaning our customers can wear our items knowing that they not only look good, but can also feel good about what their purchase stands for
Waseca, MN (PRWEB) March 23, 2015
SE Asia Brands works with non-governmental organizations (NGOs) in Cambodia to rescue and rehabilitate young women and men rescued from human trafficking and/or poverty. The NGOs teach them how to sew, bead, weave, etc. SE Asia Brands provides employment by having those rescued make clothing, jewelry, and accessories. A portion of every sale goes toward the Hope Scholarship Fund, which provides university education for at-risk young adults in Cambodia. SE Asia Brands announces new strategic alliances.
SE Asia Brands was founded in November 2013 by Andrea Popiel, after volunteering as an English teacher with Life and Hope Association, an NGO housed within a Buddhist monastery. As a former 16-year employee of Macy's in New York City she decided it was time to put her buying and HR expertise to good use.
"SEAB sell philanthropic fashion, meaning our customers can wear our items knowing that they not only look good, but can also feel good about what their purchase stands for," says founder Andrea Popiel.
SE Asia Brands sells clothing under their brand, "Sangkhuem", which is the phonetic translation of the Khmer word for "hope." Many of their jewelry and accessories for sale are exclusive designs by SE Asian Brands. They also offer other brands designed by their partners, under their labels: Jivit Thmey, Women of Worth, and Grace Gecko.
Women of Worth (WoW) is a sewing and craft project designed to lift a poor group of women out of poverty. They live in a squatter settlement on the outskirts of Siem Reap in Cambodia. In the past 12 months they have gained a variety of skills including making unique Cambodian bags; many styles of beautiful bracelets; an array of key chains, hair ties, necklaces and other items made from beading; many styles of jewelry and much more. They produce select pieces of jewelry and accessories for SE Asia Brands under our brand "Sangkhuem".
Jivit-Thmey, meaning "New Life," symbolizes the professional training opportunities provided to young Cambodian artisans as they develop their creative skills while earning a sustainable income. By utilizing a wide range of Cambodian materials, Jivit-Thmey's products are both uniquely elegant and sustainable. Through the use of recycled bullets and bombshells they create compelling and innovative works of art resulting in a beautifully symbolic act, transforming weapons of war into delicate pieces of fashionable jewelry. Jivit Thmey is the exclusive producer of sterling silver and brass jewelry for SE Asia Brands "Sangkhuem" brand.
Grace Gecko Vocational Centre for Women helps the Cambodian community become sustainable through education, family support and health care. Grace Gecko provides families opportunities to learn vocational, craft, and language skills to become self-sufficient; along with access to sanitation, clean water, dry homes, safe electricity, and micro-loans. Additionally, they educate Cambodian children in the English language and ensure they receive a state education. Grace Gecko makes bags for SE Asia Brands that are sold under their brand.
SE Asia Brands mission is to make a statement by fighting human trafficking and poverty one tunic at a time by offering a sustainable alternative to break those cycles. SE Asian Brands is headquartered administratively in NY and holds shipping and receiving operations in Waseca, MN. All production is in Cambodia.
SE Asia Brands upcoming advisory board consists of professionals in the NYC area, coming from a variety of backgrounds ranging from the NBA, restaurant/hospitality, finance to retail. This infusion of expertise helps to provide strategic direction that will ensure our goals are met and that the company has a bright, growth-filled future.
"SEAB items are handmade, competitively priced, and each item provided employment for a victim, or at-risk individual of human trafficking or poverty. It's fashion to feel good about," says Popiel.
For more information about SE Asia Brands and their partners:
SE Asian Brands
Andrea Popiel
299 Johnson Avenue SW
Waseca MN 56093
Partners:
http://www.wowcambodia.org
http://www.jivit-thmey.com
http://www.gracehousecambodia.org
Founded in 1980, JGM Properties works with over 300 tenants, including SE Asia Brands to provide office, warehouse, and retail space for lease in Minnesota. JGM Properties owns and manages Waseca Properties, as well as 15 suburban Minneapolis warehouse, and office space properties.
"The space I rent from JGM Properties for shipping/receiving is perfect. It's a great location with an updated look that matches our branding strategy. JGM has been a great partner as the business has started to take off and I'm looking forward to having to rent a larger space from them in the coming year," says Popiel.