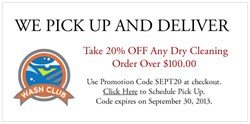 Damaged leather can cost a person thousands to replace or repair, but leather treatment is actually very simple.
New York, NY (PRWEB) September 25, 2013
As the fall and winter months approach, and with them come rainy and snowy weather, Wash Club NYC gives ways to treat weather damaged leather. Many times people get stuck outside in their leather jacket during an unexpected rain or snow storm. Whether it is a New York movie-goer out while it's snowing or a motorcyclist suddenly riding through a rain storm during a cross country trip, at some point in each person's life, their leather product will experience weather damage.
Rick Rome, owner of the New York Wash and Fold Wash Club NYC, explains that, "Damaged leather can cost a person thousands to replace or repair, but leather treatment is actually very simple." Below are the steps to cleaning wet or weather-damaged leather products.
The first step in cleaning a leather jacket is to allow the leather to dry out almost completely in a dry, room-temperature location. This may take up to an hour if the leather is extremely wet, but do not allow the leather to dry completely. The leather should be slightly damp while cleaning it. Once the leather is just damp, wipe off excess dirt or oil that is currently on the leather with a damp cloth or rag.
Once the leather is wiped down with a damp cloth, apply leather conditioner with finger tips, starting with a very small amount, and then adding more as needed. This can be done to the entire piece of leather, but must be done to the area that got wet. Water often brings oils out of the leather and these must be replaced. Leather conditioner, like Wilson's leather lotion or Lexol leather conditioner, will replace these lost oils and help to bring the leather back to a healthy glow.
Allow the leather to fully dry in a room-temperature place. Do not use heat to dry the leather faster, as this can damage leather further. This process could take up to several days. Once dry, go over the leather to find any dry or brittle areas, and rub conditioner into these locations as well.
"It is very important to treat leather immediately and completely, without rushing the process. Damaged leather can easily be completely ruined if not treated properly," explains Rick Rome. Rome is the owner of the Manhattan and Brooklyn dry cleaner, Wash Club NYC. For heavily damaged leather, Rick suggests that people consult their local dry cleaner before attempting to treat the leather themselves.
About Wash Club NYC:
Wash Club NYC is a pick-up and delivery laundry service that offers affordable and eco-friendly wash and fold and dry cleaning services from residences or places of business in Manhattan and Brooklyn. Committed to providing top-notch quality customer service, Wash Club NYC also services commercial laundry in New York for colleges, salons, health clubs, private gyms and hospitality venues. To see what Wash Club NYC can do for you, visit http://www.washclubnyc.com.