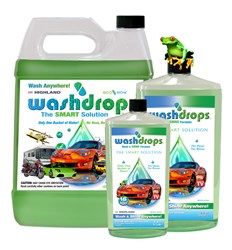 The new gallon size Washdrops Car Wash solution was created for detailers and organization's fundraising needs.
Solon, OH (PRWEB) December 16, 2013
The new gallon size Washdrops Car Wash solution was created to be the ideal car wash product for detailers and for your organization's fundraising needs. With no hose required for pre-rinse or post-rinse, a car wash could be held virtually anywhere and at any time of the year. Gone are the days of dragging a hose across a parking lot! Quicker than a traditional soap and water car wash, fundraisers' can wash more cars in less time and Washdrops non-toxic formula will not harm plants or the environment. The remaining water can easily be poured onto grass, gardens or down the drain.
If you are planning a car wash fundraiser for your school, nonprofit or community organization, "like" Washdrops on Facebook and fill out the "Fundraising Information Form" in order to receive a free sample* for yourself. As an added bonus, you'll be entered into a monthly drawing to receive a complete fundraising kit (average retail value of $50).

Free samples available to qualified fundraiser organizers while supplies last.
Cequent Consumer Products has launched their brand new online store,http://www.thecequentstore.com, where consumers can purchase Washdrops products directly from the company. Washdrops can be used for your vehicle, outdoor furniture, boats, airplanes, windows and even aluminum siding!
Washdrops requires just one bucket of water to wash any average size vehicle, and at approximately 70 cents per wash, costs much less than a commercial car wash. Washdrops requires no hose or rinsing at all; the proprietary scientific formula lifts dirt and grime without scratching vehicles or washing away surface wax. While the science is complex, cleaning a car with Washdrops is easy: simply use a wet sponge to wash away dirt and debris and then wipe dry for a streak free shine. Afterward, you may pour the remaining water on flower beds, grass or down the drain. Washdrops non-toxic solution will not harm plants or the environment as it is biodegradable, non-foaming, solvent-free, butyl-free, phosphate-free and ammonia-free.
Washdrops is available for sale on http://www.thecequentstore.com and Amazon.com.
Visit Washdrops.com for more product information.
Visit us on Facebook at: https://www.facebook.com/washdrops/app_599788450050788.
XXX
About Washdrops:
Made in the USA, Washdrops® is convenient, economical and easy to use! For an average size car, just add one ounce (three capfuls) of Washdrops® to one gallon of water. Now you can wash a vehicle anywhere in minutes without running up water bills or driving to an expensive car wash. Washdrops® really is "the smart car wash solution", plus Washdrops® is biodegradable, non-foaming, solvent-free, and the remaining water can be poured on a lawn or bed of flowers when done. Washdrops® is available in 16-ounce (16 washes), 32-ounce (32 washes) or one gallon (up to 128 washes) sizes and is available on thecequentstore.com and Amazon.com.
Read what's being said about Washdrops:
"Washdrops leaves behind a shiny clean surface without having to endlessly rinse or even needing a second wash. It worked well on his super salty and grimy car, even getting the wheels squeaky clean. I'm totally a convert." - Kelly Whalen of The Cent$ible Life
"Even my husband took a step back and mentioned that he was impressed with how well Washdrops cleaned." - Heather of Our Kids Mom
"Finally… there is a quick, easy and environmentally responsible way to wash your vehicle! Washdrops leaves a beautiful shine! I was amazed at how well the Washdrops cleaned the car. The car was cleaned much better than it was with regular car cleaning products we buy from the store. The best part was we saved a ton of water and my children had fun." - Leroy Coffie of Daddy Waddy Weeviews
About Cequent Consumer Products:
Cequent Consumer Products, Inc. is the industry's leading designer, manufacturer and marketer of innovative consumer goods and automotive aftermarket products. For more than 85 years, Cequent Consumer Products has produced some of the most dependable products in the market today including superior-quality towing and hitch systems, trailer components and accessories, wiring, lighting and brake systems, cargo securing, cargo carrying, rack systems, as well as household and industrial brooms and brushes. For more information on our brands, please visit Cequent Consumer Products website.