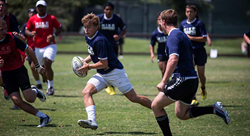 Georgetown University is one of the most recognizable institutions in the Northeast and is the perfect venue for our camp.
San Rafael, CA (PRWEB) April 17, 2014
Nike Rugby Camps announces the newest youth rugby camp in the Mid-Atlantic at Georgetown University. Current Team USA member, Mike Petri, directs the program with other USA players on staff as coaches and counselors.
"Georgetown University is one of the most recognizable institutions in the Northeast and is the perfect venue for our camp," states Manager of Nike Rugby Camps, Nicholas Brunner. "Not only will participants receive instruction from some of the sport's best athletes and coaches, they can experience a slice of life on one of the most prestigious campuses in the country. This is going to be an amazing experience for our young athletes."
A member of the USA Men's Rugby Team for eight years and current Team Captain, Petri participated in both the 2007 and 2011 Rugby World Cup. Petri attended Penn State University on a full scholarship where he was awarded Collegiate All-American all four years. On top of his current commitment to the USA Rugby squad, he also teaches and coaches rugby at Xavier High School in New York.
"I'm really excited to have another Nike Rugby Camp here in New York and honored to kick off a new branch at the illustrious Georgetown University," says Team USA Captain and Nike Camp Director, Mike Petri. "Both areas are quickly becoming rugby hot beds here in America with an incredible amount of athleticism and rugby talent. Both camps will be staffed with USA national team players and high-caliber coaches. We are expecting big turn outs this year and I speak on behalf of everyone in the Nike Rugby Camp community that we are thrilled to get these camps underway."
Emphasis is placed on catching and passing techniques, defensive structure, tackling, and position-specific training along with touch rugby scrimmage. Evening sessions include exercise and science training, film review, and activities on campus.
The overnight session will be offered from July 20th – 22nd for boys ages 9 to 18. A day option is also available for local campers from 9:00 am to 4:30 pm each day. For complete information on this camp, visit Nike Rugby Camp at Georgetown University.
About US Sports Camps and Nike Rugby Camps
Nike Rugby Camps (NRC) is a division of US Sports Camps (USSC), Inc. Headquartered in San Rafael, California, (USSC) is America's largest sports camp network and the licensed operator of Nike Sports Camps. The company has offered summer camps since 1975. Last year NRC joined forces with ELITE Rugby Camps and Evolution Rugby Camps to reach over 5,000 new and experienced players.
Players, coaches, parents and others interested in Nike Rugby Camps can visit USSportsCamps.com/rugby or phone 1-800-NIKE-CAMP.