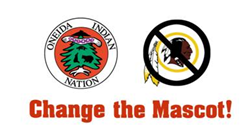 New York's federal and state officials from both parties are setting an example for the country.
Oneida Nation Homelands (NY) (PRWEB) May 22, 2014
The Oneida Indian Nation today praises New York Senators Chuck Schumer and Kirsten Gillibrand for co-signing a letter endorsed by 50 Senators to NFL Commissioner Roger Goodell urging the league to push for a name change for Washington's football team. The letter, authored by Senate Majority Leader Harry Reid (D-NV) and Senator Maria Cantwell (D-WA), declared that "it's time for the NFL to endorse a name change for the Washington, D.C. football team."*
In the letter to Goodell, the senators note that the NBA recently took a bold stand against racism and encourage the NFL to do the same. "Today, we urge you and the National Football League to send the same clear message as the NBA did: that racism and bigotry have no place in professional sports," reads the letter. "Now is the time for the NFL to act. The Washington, D.C. football team is on the wrong side of history. What message does it send to punish slurs against African Americans while endorsing slurs against Native Americans?"
The letter also notes that all of the country's national Tribal organizations, which represent more than two million Native Americans, have unequivocally spoken out in support of the name change.
Just days ago, the New York State Assembly unanimously passed a resolution calling upon professional sports leagues to end their use of racial slurs. The NFL is headquartered in New York, and the resolution specifically cites the Washington NFL team's R-word mascot as a dictionary-defined epithet.
"New York's federal and state officials from both parties are setting an example for the country by saying that major institutions in America have a moral obligation to be respectful of all cultures," said Oneida Indian Nation Representative Ray Halbritter. "These New York leaders are placing themselves on the right side of history by demanding that the NFL stand up to Dan Snyder and force him to stop promoting this painful racial slur."
The Oneida Indian Nation leads the growing, national Change the Mascot campaign pressing for a name change from Washington's NFL team. The grassroots movement has garnered increasing support over the past year from bipartisan political leaders, civil rights organizations, faith leaders, sports icons, leading journalists, Native American organizations, and President Obama.
The full text of the Senators' letter to Goodell can be found on the Change the Mascot website.
*Citing N.B.A. Example, Senators Urge N.F.L. to Act on Redskins' Name, 5.22.14, nytimes.com/2014/05/22/sports/football/citing-nba-example-senators-urge-nfl-to-act-on-redskins-name.html?_r=0