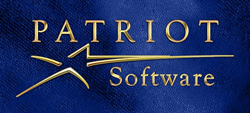 "Employers need payroll software that is convenient, reliable, and affordable. We guarantee that our payroll taxes computations are accurate, and with Full Service payroll we even handle deposits and filings for employers."
Canton, Ohio (PRWEB) December 17, 2014
The state of Washington is the 47th state to offer basic and full service payroll options from Patriot Software, Inc.
"The timing is perfect," says Michele Bossart, marketing coordinator. "With the start of the new year, small business owners are evaluating their current software choices and considering new payroll options. With Patriot's online payroll they have the option of online payroll and accounting software designed for the smallest small businesses."
Bossart adds, "Employers need software that is convenient, reliable, and affordable. We guarantee that our payroll taxes computations are accurate, and with Full Service payroll we even handle deposits and filings for employers."
The Facts
Washington has 549,000 small businesses which employ more than 1.2 million workers (SBA). That represents more than half of the state's workforce, and 98 percent of the employers!
"Small business owners are busy people, so we make the transition to Patriot Software as easy as possible," states Patriot Software's customer support coordinator, Wendy Smith. "Their first month is free, and we offer free setup for both our payroll and accounting software."
Smith smiles, "Our customers love us! Our support is free, our software is easy-to-learn, and our online software means automatic updates with 24/7 convenience from any Internet-connected device."
One at a Time
Patriot Software performs extensive testing on their software before making it available to an individual state. Doug Simmons, payroll tax specialist, explains, "Each state has very specific, unique regulations for payroll taxes; and the regulations are constantly changing."
Those constant changes are closely monitored by Patriot Software, allowing them to guarantee the accuracy of the payroll tax computations in their online software.
Excitement Growing
Mike Kappel, president and founder of Patriot Software, states, "Our mission is to help small business owners with easy and affordable software. With only three states still in the testing phase, we are so close to opening our doors to all fifty states."
For more information about Patriot Software and its software solutions for small business owners, simply call 877.968.7147 or find them at http://www.PatriotSoftware.com.