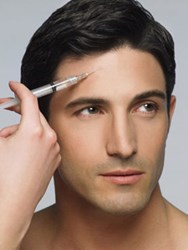 Vienna, VA (PRWEB) September 25, 2013
"D.C. Butt Doctor", Dr. Shlomo Widder, is compelled to help patients get safe Botox to ensure the most natural looking results possible. Knowledge is key when considering a cosmetic enhancement of any kind. "Many patients simply are unaware of their options and therefore end up settling with a procedure that may not be the best for them," says Dr. Widder.
When injected correctly Botox provides beneficial interplay between the muscles. However if too much is used, patients may end up with the less than desirable "surprised look." When a doctor injects the forehead to eliminate wrinkles and goes too low, all the forehead muscles can become paralyzed and droopiness of the brow is the result. That is what they call the overdone look. What happens is that gravity can take the Botox down. When you do the injection, there is a little trauma and a bit of fluid is released from the injury site. The weight of the fluid with the Botox will carry it down because of gravity.
Depending on the formula Botox lasts 3-4 months on average, but can last up to 8 months. Dr. Widder explains, "It depends on the metabolism. Some people break down the Botox faster, and some slower. Ideally, one should consider doing it continuously every 3 months so that the muscle doesn't recover. If it's being done in that way for about 2 years, then the muscle will become so weak that the need to inject the Botox goes down to once every 10 months or even once a year."
When done properly Botox is extremely safe. With a lethal amount of 5000 units and the average cosmetic procedure requiring a mere 100 units the safety margin is very, very high.
Dr. Widder is the only plastic surgeon in the Northern Virginia area offering buttock implants. The "Butt Doctor" of D.C. has made it his mission to help men and women achieve the perfect posterior.
About Widder Cosmetic & Plastic Surgery:
Serving the Northern Virginia area, Washington D.C. metropolitan area and beyond in cosmetic and plastic surgery procedures for more than 25 years, Dr. Widder is an established member of the American Society of Plastic Surgeons and the American Society of Aesthetic Plastic Surgery. His surgery center is accredited by the AAAASF. Dr. Widder's office provides free consultations at their luxurious 3,300 square foot facility. Their services include Face Lift, Facial Implants, cheek, chin, eyelids surgery, Otoplasty Ear Tuck, Botox and Facial Fillers, Liposuction, Breast Augmentation, Breast Reduction and Breast Lift, Pectoral Implants, Gynecomastia Surgery, Calf Implants, Rhinoplasty, and they're the only plastic surgery center in the area offering buttock implants. For more information about The D.C. Butt Doctor visit: http://www.widderplasticsurgery.com.