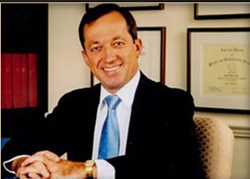 Everyone has a different goal and a different image of how they look in their mind. When they come to the consultation, we discuss everything and I ask them, 'What will make you satisfied?'
Vienna, VA (PRWEB) September 25, 2013
Dr. Shlomo Widder, widely known as the "DC Butt Doctor in the Washington, DC metro area, has many patients walk into his Northern Virginia office seeking derrières that mimic Jennifer Lopez, Kim Kardashian or Beyoncé. Some women are even interested in the size and shape of Nicki Minaj, however Dr. Widder suggest something more proportionate, "…in my opinion, don't try to imitate her butt size. That doesn't mean there's anything wrong with Nicki Minaj, it's just that she has elected to have a butt outside of the normal size range. She's an entertainer so for her it is part of her performance. However, what I try to create is a natural-looking butt that is attractive, proportionate, and not excessive in size to a point that it might cause sagginess later in life."
As with every cosmetic procedure he conducts, Dr. Widder's end goal is natural looking results that the client will love. He pays careful attention to each patient's wants and needs during his consultations going beyond slapping on a cookie cutter look.
"People are different. Everyone has a different goal and a different image of how they look in their mind. When they come to the consultation, we discuss everything and I ask them, 'What will make you satisfied? What will make you happy with the way your butt looks?' For most of them, they want to look full on the top, have a projection in the middle and fullness laterally. Some of them though, don't want that lateral fullness. Depending on their preference, I can place the implant a little further from or closer to the midline – the crack between the cheeks. If I place it closer, it gives a tighter, a more muscular look. If I push it a little bit laterally, it gives a more feminine, full look. It all depends on the patient's desires."
Dr. Widder is the only plastic surgeon in the Northern Virginia area offering buttock implants. The "Butt Doctor" of D.C. has made it his mission to help men and women achieve the perfect posterior.
About Widder Cosmetic & Plastic Surgery:
Serving the Northern Virginia area, Washington D.C. metropolitan area and beyond in cosmetic and plastic surgery procedures for more than 25 years, Dr. Widder is an established member of the American Society of Plastic Surgeons and the American Society of Aesthetic Plastic Surgery. His surgery center is accredited by the AAAASF. Dr. Widder's office provides free consultations at their luxurious 3,300 square foot facility. Their services include Face Lift, Facial Implants, cheek, chin, eyelids surgery, Otoplasty Ear Tuck, Botox and Facial Fillers, Liposuction, Breast Augmentation, Breast Reduction and Breast Lift, Pectoral Implants, Gynecomastia Surgery, Calf Implants, Rhinoplasty, and they're the only plastic surgery center in the area offering buttock implants. For more information about The D.C. Butt Doctor visit: http://www.widderplasticsurgery.com.