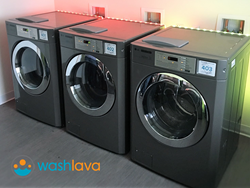 The Washlava beta test is intended to stress test the system, gain feedback from users, and improve the technology before launching nationwide
Tampa, Fla. (PRWEB) October 26, 2016
"Convenient," "time saving," and "easy" are just some of the adjectives being used by University of Florida students to describe a new smart laundry technology and mobile app being tested at Infinity Hall.
The 308 Infinity Hall residents are part of a unique live/learn entrepreneurial community and are participating in a beta test to evaluate a smart laundry platform built by Tampa-based startup, Washlava. The system consists of machine-controlling technology inside 24 washers and dryers, an integrated wayfinding light system, and a native smartphone application that allows residents to reserve washers in advance, pay through their phone, and monitor their laundry in real time.
The technology is the brainchild of serial entrepreneur and Washlava CEO, Todd Belveal, who's vision is to create a seamless user experience that elevates self-service laundry.
"The Washlava beta test is intended to stress test the system, gain feedback from users, and improve the technology before launching nationwide," explains Belveal. "The initial results have been very positive, and we could not have asked for a better place to test than an entrepreneurial residence hall at the University of Florida."
While the test has gone off without a hitch, the founder was surprised to find users so excited about the wayfinding light feature that indicates when washers and dryers are available, in use, or reserved.
"I know the students like the app and convenience," says Belveal, "but their eyes light up and they get really excited when they talk about the lights."
In addition to providing users with added ease and convenience, the company is also able to monitor machine statuses and cycle information, usage trends, and more – all features that will allow for better, more efficient laundry rooms.
The beta test will conclude at the end of the 2016 fall semester, and the technology will begin rolling out nationwide in early 2017.
About Washlava
Washlava is a mobile technology company with a patent-pending laundry platform that eliminates cash and friction from laundry facilities, allowing operators, customers, and machines to interact via a native mobile app. Washlava intends to revolutionize and consolidate the deeply fragmented self-service laundry industry through its technology and set a new standard in self-service laundry. Washlava was founded by Todd Belveal, co-founder of the Austin-based, mobile-enabled car rental company, Silvercar. The company is headquarted in Tampa, FL and has raised $1.8 million since June 2015. For more information, visit washlava.com.