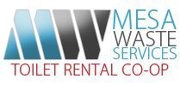 Poo & Pee Portability
(PRWEB) February 17, 2014
Mesa Waste Services is more aware of this than anyone and with their Disaster Relief Portable Sanitation Solutions, the company works tirelessly to provide quality sanitation solutions, porta-potties, shower trailers and many other forms of sanitation equipment in the event of any form of disaster situation. The waste company is even available 24-hours through their emergency relief phone number at 1-480-492-7042 as their focus is on the needs the community.
Mike R., Mesa Waste Services Disaster Relief Visibility agent, provides a noteworthy statement on this latest announcement- "With Spring and Summer right around the corner, we wanted to get a head start on addressing the preparedness for potential natural disasters like monsoons, tornadoes and hurricanes. The Red Cross is the largest volunteer network, and many people don't realize that despite the some 70,000 disasters in the United States the organization is called on to help care for, they are not a government entity. They are a  stand alone non-profit that relies solely on donations and charitable giving by both their local community and individuals. At Mesa Waste Services, seeking community support and donations for Red Cross Shelters is a top priority"
Many can remember 2010 and the "Arizona tornado outbreak", which was the largest single-day tornado-event in Arizona history. Eight separate tornadoes touched down across the Phoenix area. The outbreak lasted for 11 straight hours, with eleven individuals injured and over $332 million in damages. This event that only happened just a few short years ago serves as a strong reminder that the importance of the Red Cross cannot be understated, no matter the region.
Since 2006, Mesa Waste Services has been mobilizing hundreds of porta-potties, hand washing sinks and the largest co-operative fleet of restroom shower trailer facilities prior to massive storms making landfall. They are available to provide support on all levels including: local, state, and federal governments (including military). They also contract the to Red Cross, FEMA and primary associates in both public and private sector. Mesa Waste Services prides themselves on the response to historic property devastation and millions of displaced citizens in any disaster cleanup situation across America.
Mesa Waste Services hopes that this message will serve as a reminder to their customers, colleagues and every day website users to participate with them by partnering with the Red Cross and helping them at various disaster sites by donating to a local Red Cross shelter.
For media inquires regarding Mesa Waste Services, individuals are encouraged to contact Mike R., Disaster Relief Visibility Agent at (1-877-279-5725) or via online form at (http://www.mesawasteservices.com/toilets-showers_natural_disaster_relief.php). Individuals can learn more about Masa Waste Service by visiting: http://www.MesaWasteServices.com. To donate to directly to your Red Cross visit: http://www.redcross.org/charitable-donations.