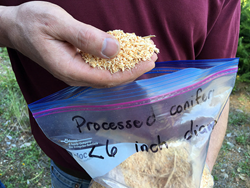 ARCATA, Calif. (PRWEB) September 25, 2018
The Waste to Wisdom research project, a four-year effort that completed at the end of 2017, recently received approval on its final report and project deliverables. Waste to Wisdom built on existing research on the conversion of forest residues into renewable fuel and other valuable bio-based products.
Forest residues refers to limbs, treetops and other waste materials left on the forest floor after timber harvesting, which are not effectively utilized but can potentially be a major source of bioenergy.
Waste to Wisdom's final report and project deliverables are available for viewing on the project's Final Reports webpage.
The project, titled "Waste to Wisdom: Utilizing forest residues for the production of bioenergy and bioproducts," was led by Humboldt State University and previous HSU Forestry Professor Han-Sup Han along with 15 regional partners. The project's research partners included: Green Diamond Resource Company, the University of Washington, Oregon State University, the Bureau of Land Management, USDA Forest Service, USFS Rocky Mountain Research Station, USFS Forest Products Lab, Redwood Forest Foundation, Forest Concepts, Steve Morris Logging, Peterson Pacific Corp., Biochar Solutions, Pellet Fuels Institute, Norris Thermal Technologies, RUF Briquetting Systems, Lane Forest Products, and Forest Business Network.
The effort was funded by a $5.88 million grant from the U.S. Department of Energy to conduct innovative biomass research—award number DE-EE0006297—and was part of the Biomass Research and Development Initiative (BRDI). BRDI is a collaborative effort between the Department of Energy and the U.S. Department of Agriculture that supports renewable energy research in the rural United States.
The primary goal of this project was to utilize waste forest residues for the production of bioenergy and bio-based products as a strategy to: 1) increase energy supply from renewable sources, 2) improve the environment, and 3) promote economic development in rural, forest-dependent communities in the western U.S. Using forest residues as a feedstock for biomass conversion technologies provides substantial social and economic benefits for rural, timber-dependent communities, including providing jobs for local workers and improving air quality through reduced emissions from open pile burns. In addition, converting forest residues into biochar is an effective strategy for carbon sequestration and improving the productivity of forest soils while reducing the incidence of catastrophic wildfires.
The grant allowed research teams comprising investigators, graduate students, postdoctoral researchers, and private sector partners to address technical challenges and make bioenergy technologies more marketable. The interdisciplinary research team worked together for about four years (September 2013 – December 2017) to: 1) conduct field-based experiments to develop innovative tools and systems that improve the economics, accessibility, and production of quality feedstocks from forest residues, 2) develop and test stand-alone in-woods or near-the-forest biomass conversion technologies (BCTs) to evaluate the economic feasibility of commercialization of BCTs for the production of biochar, torrefied wood, and briquettes, and 3) perform analyses to quantify the life-cycle economic and environmental benefits of utilizing forest residues with BCTs for the production of bioenergy and bioproducts.
The three research areas were feedstock (processed forest residues) supply, conversion technologies, and economic life-cycle analysis.
The feedstock supply group focused on the economics of converting forest residue into high quality feedstocks. Researchers conducted experiments and developed biomass recovery systems that improved the economics, accessibility, and production of quality feedstocks from forest residues.
The conversion technologies group studied biomass conversion technologies that converted slash or wood chips into biomass fuels and products at or near collection sites in the forest. Methods included gasification to produce biochar, pyrolysis to produce torrefied pellets, and densification to produce briquettes.
The economic life-cycle analysis group performed economic analyses and conducted a life-cycle analysis documenting the economic benefits and other environmental effects related to utilizing forest residues.
For lessons learned and in-depth details on the three research areas, visit the Final Reports webpage. For questions about the Waste to Wisdom project, be sure to reach out on the contact form on the website.