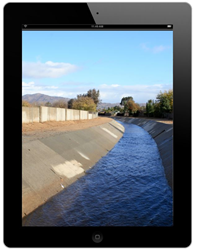 Stormwater Inspection is easier on tablets
Orange County, CA (PRWEB) May 30, 2014
Inspect2GO now offers paperless stormwater and wastewater inspection software. Applications are available for iOS (iPhone/iPad), Android, and Windows/Microsoft Surface tablets. The native mobile applications function offline, then sync via Wi-Fi to the municipality's Microsoft SQL server for reporting. Or, create PDF inspection reports directly from the tablet. Inspect2GO tailors the inspection forms to meet each new client's local and state regulatory requirements.
Examples:

Wastewater Utility Inspection Forms
Stormwater Inspection Forms
Industrial Pretreatment Inspection Forms
Grease Trap Inspection
Water Quality
Wastewater Treatment
Data Entry (Processing Equipment, Meters, etc.)
Municipal, Commercial and Industrial Facilities
About Inspect2GO
Inspect2GO, Inc., (http://www.inspect2go.com) offers environmental health inspection software to municipalities nationwide. Inspect2GO's comprehensive software solution consists of 3 components; mobile app, database and web-based office software. Restaurant inspection and other environmental health (EH) audits are performed via the mobile application. The "native" mobile app functions on an iPad, Android tablet or Windows mobile device without an internet connection. The mobile app then syncs with the customer's server (or Inspect2GO's cloud). Web-based office software is used to manage the process. Users can schedule inspections, view facility history, reference health codes, print permits, search and generate custom reports all within one comprehensive software package. Inspect2GO tailors its software to meet the unique regulatory needs of each municipality.