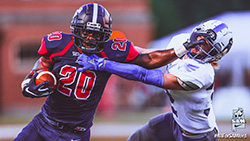 The university is the first school to automatically share gameday images with athletes and boost ROI by harnessing students' individual social media networks.
NEW YORK (PRWEB) November 13, 2018
Libris, the leading digital asset management platform that helps brands effortlessly power their visual storytelling, has teamed up with Samford University Athletics and Socialie, a social media distribution tool, to deliver compelling visual content to student athletes at lightning speed. Powered by a custom integration between Libris and Socialie, the university is the first school to automatically share gameday images with athletes and boost ROI by harnessing students' individual social media networks.
Watch the video to see how Samford University's cutting-edge photography workflow is exponentially increasing social media engagement. http://bit.ly/2zl0zfz
With the combined technology of Libris and Socialie, the communications team behind Samford University Athletics is empowering student athletes to share professional photos in real time while a game is top of mind. By sharing content directly with students, their engagement is now up 68% on Twitter, and they have expanded their reach by over 469,399 followers.
Here's how it works:

Photographers on the sidelines send photos wirelessly from the field to Libris, the department's cloud-based digital asset management platform.
Once the images are tagged with a specific keyword in Libris, they are instantly texted to individual college athletes via Socialie.
Athletes can then share Samford-branded gameday photos to their personal social media platforms and engage with fans directly.
"Samford University is using Libris and Socialie to take real-time visual storytelling to the next level," says Andrew Fingerman, CEO of PhotoShelter. "They're empowering student athletes to share content instantly, and as a result, they're creating a wave of energy and excitement for the school and its followers."
"We've made a real investment in technology that can help boost ROI by leveraging the social media networks of students," says Kevin Young, the Associate Athletics Director for Marketing and Strategic Communications for Samford Athletics. "Today, we're the only school sending gameday images directly from the camera to athletes to share within minutes. By using smart technology combined with grassroots marketing, we're seeing an enormous bump in engagement across the board."
Join the waitlist to stay in the loop about a custom integration between Libris and Socialie: trylibris.photoshelter.com/socialie
About Libris
Libris (libris.photoshelter.com) is the simplest and fastest digital asset management platform built for visual media. We help brands and organizations create visual stories effortlessly. With 13 years in the cloud and more than 500 million assets managed, our cutting-edge software helps over 800 top universities, professional sports teams, travel brands and organizations of all sizes easily organize, collaborate on and share their photos and videos. It's a powerful media library that will centralize your team's assets and change the way you communicate visually.
Today, Libris is used by hundreds of top brands across industries, including: The Associated Press, Atlanta Braves, Baltimore Ravens, Chick-fil-A, Denver Broncos, Los Angeles Chargers, Pandora, PBS, Philadelphia Eagles, Politico and Wendy's. To request a demo, please visit libris.photoshelter.com.
About Socialie
Socialie is the only web-based social media content distribution platform that enables companies to share content across their network of stakeholders, including athletes, influencers, employees, partners and more. Launched in 2016, Socialie works with premier sports leagues, over 40+ pro teams, media companies and universities to share content with over 10,000 publishers, generating millions of impressions each month.