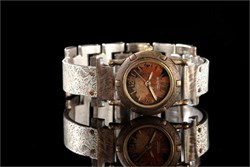 (PRWEB) September 05, 2013
Online jewelry retailer, Billy the Tree, has recently experienced an increase in sales of their unique Watchcraft Watches.
Customers have been responding extremely well to the Watchcraft Watches style and have been providing feedback to the jewelry retailer that they are a critical part of their overall fashion statement. The recent surge in strong sales have been a clear indicator of the watches popularity and a reflection of an increasing trend by consumers favoring elegant, unique timepieces.
"This could perhaps be due to the improving economy," says Billy the Tree's founder, Robin Weber. "Or it may simply be a reflection of the fact that unique, stylish watches simply never go out of style, and may in fact be getting increasingly popular."
Eduardo Milieris' designs strategically utilize different metals that are purposely not sealed. The metals change over time, depending on the wearer of the watch and the surrounding environment they are in, symbolizing the variation of time and the constant variations in life.
Billy the Tree ships each watch in a custom, beautiful faux-suede box with a warranty included, as well as a biography of Milieris and a description of the watch purchased.
About BillyTheTree.com
Founded in 2004 by Robin Weber when he was still a senior in high school, BillyTheTree.com offers a large variety of affordable, yet high quality jewelry, watches and sunglasses. The company offers free worldwide shipping on these product lines, which include almost 12,000 items, consisting of magnetic jewelry, sterling silver jewelry, jade jewelry, high performance sport sunglasses, and more. For more information or to place an order, please visit: http://www.billythetree.com.