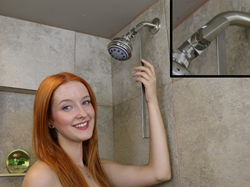 Dallas, Texas (PRWEB) June 23, 2015
Water Select has started a new campaign to contact green plumbers in California to get new water saving technology in places that can make a difference. The time is now for us all to willingly participate in the game of water conservation and the shower is an excellent place to start. "How many customers would be interested in reducing water usage in the shower anywhere from 20% to as much as 70%, right now?" Would their objection be, "Not if it changes my shower experience"? That is the beauty of Water Select's flow-control valve; the shower experience is enhanced, not diminished.
Eco-Friendly Green Plumbers know that if the customer thinks that in order to save water they will have to alter or decrease water pressure, that this is a quick way to stop the conversation [sale]. The Water Select valve in no way affects the standard water pressure passing through the valve. If the pressure was 80 psi before installing the valve, the pressure will be 80 psi after installing the valve. The shower experience will not weaken or noticeably change, unless specifically controlled to do so. That is an important and easy point for Green Showerhead Dealers and Plumbers to demonstrate and sell.
Because the patented Water Select valves are solid brass, years of dependable service and utility savings are guaranteed. The lifespan is equal to, or easily surpasses, vintage or new design showerheads currently on the market. Brass, in-line, valves have long been used in the plumbing industry and have an established history of reliability.
The Water Select showerhead valve turns all showerheads into high efficiency units and goes above and beyond the water conservation offered by low-flow showerheads. Eco-Friendly Green Plumbers and Dealers know how attached their customers are to their showerheads. The beauty of the Water Select showerhead valve is that it is an addition; between the shower arm and the showerhead, which enables the customer to keep the showerhead they know and are accustomed to.
Eco-Friendly Green Plumbers can easily spotlight the value of the valve's unique extended handle that allows manual adjustment of the water flow from full-flow all the way down to a complete stop. Showerheads, in general, do not offer flow-control options. Many times during the course of a shower it is feasible, even preferable, to reduce the flow of water coming out of the showerhead while tasks; such as: soaping-up, shaving, brushing teeth, bathing children, bathing pets, bathing the elderly, or cleaning, are being performed.
Water Select is working to educate Green Plumbers about the energy/water/sewage/cost savings that adding a 2.0 gpm flow-control valve to existing showerheads affords. Based on an average 13-minute shower, using the valve in conjunction with a federally mandated 2.5 gpm (or Less) showerhead, the savings for an average household (3) could top 7,000 gallons of water per year, before the unique flow-control option is utilized, when even more savings can be realized.
Eco-Friendly Green Plumbers understand that these water savings will reduce demand on water heaters so households will also save energy. In fact, an effective selling point is that a household could save ~300 kilowatt hours annually, which is enough electricity to power a television for about a year.
Note to all Eco-Friendly Green Plumbers: With any showerhead of choice be sure to select green plumbing fixtures and promote adding the Water Select showerhead valve to increase savings of water, energy and money on utility bills.
WATER SELECT IS CONSERVATION WITH IMMEDIATE EFFECT
For more info visit http://www.WaterSelect.com