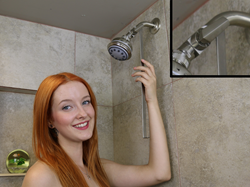 Conservation With Immediate Effect
Dallas, TX (PRWEB) May 22, 2015
Water scarcity is a problem hotel companies recognize and have significant regard for. First there is the issue of availability of a continuous and ample supply of fresh water. Without water can hotels keep their doors open? Then concerns turn toward the water budget's bottom line. This year water rates have already increased 14%. If California reservoirs reportedly have enough water to last through 2015, and the year is almost half gone, coupled with the fact that California had a very dry "wet" season, it stands to reason that there will be more water rate hikes. Availability and the increased cost of water will have significant impact on room cost. For more info visit http://www.WaterSelect.com
Astute water managers are always looking for ways to help reduce operating costs. Water Select's showerhead flow-control valve is new water saving technology that helps hotels save money. The "add-on" valve turns all showerheads into high efficiency units and goes above and beyond the water conservation offered by any low-flow showerheads.
Water Select's flow-control valve allows manual adjustment of the water from full-flow all the way down to a trickle, or even a complete stop. Showerheads, in general, do not offer flow-control options. Every time the flow of water is turned down to perform certain tasks, between 2 and 8 gallons of water are saved. Quantum leaps towards conserving water in the shower are made when the valve is used in conjunction with 2.5 gpm showerheads. Any manner of enhancing water savings reduces the bottom line costs of water, sewage and energy associated with that shower.
Flow-control is a luxury that is easy to love, appreciate and promote. The overall average for Hotel showers is 7 minutes. That is considerably shorter than the 13-minute national average for daily home showers. These quick-time showers indicate that many hotel showers are taken for the express purpose of "freshening up". Reducing the flow of water for a quick shower to freshen up is luxury because it reduces the stress of trying to keep hair and makeup dry during the course of the shower.
Check out http://www.WaterSelect.com to find out how to use water in the shower more efficiently, increase the luxury of a shower and get a quick return on investment. Water Select Is Conservation With Immediate Effect