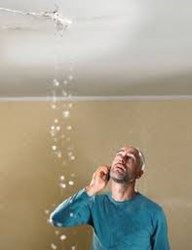 Water damage is a serious problem that can spread quickly. Homeowners should make sure to investigate and solve any potential leaks to avoid major damage later.
New Orleans, Louisiana (PRWEB) October 10, 2013
It's hard to believe, but something as simple as a leaky pipe can end up causing a homeowner thousands of dollars in repairs. Water damage is a serious problem for residents across the country. Not only it there the immediate damage, such as damaged wood flooring, but it can also lead to long term problems, such as mold growth and structural damage.
According to the home security and safety professionals at AlarmSystemReport.com, there are steps homeowners can take to prevent water damage from happening in their home. AlarmSystemReport.com provides alarm system reviews of top companies throughout the country. The company has created a brief list of tips to avoid being the victim of water damage.
1. Know the causes of water damage. This is one of the best lines of defense. The top three most common culprits are supply lines to appliances and fixtures, rain and surface water, and waste water from toilets and washing machines.
2. Keep the roof and gutters of a home in good condition, and regularly maintain these areas.
3. Make sure the soil surrounding a home's foundation slopes away from the home to prevent water from backing up.
4. Ensure plumbing and appliances are well-maintained and work properly. One of the most important appliances to check frequently is the water heater. Typically a water heater has a lifespan of about ten years—check the bottom for signs of rust, which could mean a problem
5. Keep air conditioning units in good condition, and have them serviced on a regular basis. As a homeowner there are also DIY maintenance steps that can be performed on air conditioners, such as changing the filters and cleaning the drains.
6. Homeowners can speak with their alarm system company about water detection alarms, which will alert homeowners and the alarm monitoring company if there is a leak detected. This can prevent extensive damage from occurring. Many of the best home alarm systems can be equipped with this technology.
7. When going on vacation, always turn the main water valve off, even if it's only for a short trip away from home. All faucets should be turned off as well, in case someone accidentally turns the water valve back on.
8. Replacing water supply lines with steel braided hoses may be advisable for some homeowners, particularly if their home is more than twenty years old.
About AlarmSystemReport.com
AlarmSystemReport.com provides comprehensive, secret shopper-style reviews of the top home alarm companies throughout the country. The site also has valuable pricing resources for consumers, including discount codes and coupons for top-rated companies, such as Vivint coupons. AlarmSystemReport.com routinely updates information to keep consumers ahead of changes in the alarm industry, to help them make informed purchasing decisions.