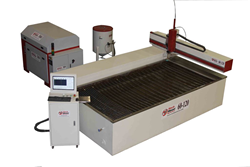 We decided to build our own because we knew a lot of other shops would also like to have a high-quality water jet cutter at an affordable price
St. Louis, MO (PRWEB) April 28, 2014
TechMoon WaterJets is announcing the availability of their new flagship CNC abrasive water cutting system, the Model 60-120. The system comes with:
1. TechMoon®'s Ultra High Pressure (UHP) Intensifier Pump in either 55,000 PSI (380 MPa) or 60,000 PSI (420 MPa);
2. TechMoon®'s CNC Control System which is Windows-based and has a 19" LCD monitor. The system supports multi formats: ENG, DXF, G-Code;
3. TechMoon®'s Cutting Table which is freestanding and independent. Sizes are dependent on customer need. Anywhere from a 2×2 table up to a 14×20 table; and
4. A 500 lb. bulk storage hopper and 5 lb. mini hopper system for abrasives.
The cost of the base model 60-120 is $64,900, depending on table size and attachments.
Tired of outsourcing their own cutting needs, TechMoon started manufacture of waterjet systems in 2013 because they couldn't find a water jet cutter on the market that met their specifications of quality and price. The average high quality water jet cutting machine in America starts at over $100,000 and quickly goes up to $300,000 depending on features. Foreign-built and assembled systems are cheaper but that doesn't include shipping and worries about support and quality.
"We decided to build our own because we knew a lot of other shops would also like to have a high-quality water jet cutter at an affordable price," explains TechMoon's Terrance Hamilton.
"We found a quality parts manufacturer oversees and brought the parts in and set to work customizing the cutter and adding features to have it perform to our high standards of manufacture. The documentation and support for the system is all from our company in Missouri."
Abrasive water jet systems have many advantages, including:

Cuts a wide range of materials and thicknesses.
Does not create a heat-affected zone (HAZ), distortion or mechanical stresses.
Considered "green" technology because the cutting process does not create hazardous gases or waste.
Unlike machining or grinding, abrasive water jet cutting does not produce any harmful dust or particles if inhaled.
TechMoon is offering to provide a no-cost, no-obligation test cut for anyone looking to purchase an abrasive water jet system. Some restrictions apply. To take advantage of the offer, simply go to the TechMoon WaterJet System website.
A PDF file with full specifications of the 60-120 system is also available for download off the website.
"We are truly excited about this machine," exudes Hamilton. "It would be a dream come true for many shops around this country to be able to afford a high quality abrasive water jet cutting system. It would make their lives so much easier and efficient. Well, that dream is now a reality with the TechMoon 60-120."
For more information on TechMoon, see their website or contact:
Terrance Hamilton
TechMoon Waterjets
311 South Cool Springs Road
O'Fallon, MO 63366
Phone: (636) 410-6222
Fax: (636) 614-1749
http://www.techmoonwj.com