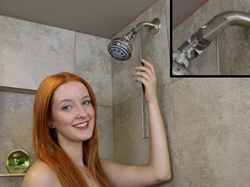 Dallas, TX (PRWEB) July 13, 2015
Adding Water Select flow-control valves to existing showerheads and Instant-Off automatic shut-off valves to existing water faucets makes existing plumbing fixtures zero waste and more water efficient than new proposed water conservation standards. Get more info at http://www.waterselect.com
The focus needs to be on what we can do right now to conserve more water today. Adding shut-off valves to existing faucets and showerheads can save California over 100 million gallons a day. Watch this video - https://youtu.be/tNTxUj1b4V0
According to the National Resources Defense Council, "As of January 1, 2016, older kitchen and bathroom fixtures will be illegal" in California. This code applies to new plumbing fixtures; not existing. This isn't the first time the government has stepped in and issued new legislation aimed at saving water. Federal and State Governments can't afford to fail when tackling water scarcity. The Federal Energy Policy Act of 1992 outlawed showerheads that flowed more than 2.5 gpm. Bureaucratic invasion in the bathroom caused a loud and furious outcry of protest as everyone was re-educated about the advantages of taking a water efficient shower.
Wonderful things happened as the general public had no choice but to get used to taking a reduced-flow shower. Long-range water sustainability made massive leaps forward as many trillions of gallons of water were now not going down the drain flooding the sewage treatment plants. Energy dependence was reduced as hot water heaters could be turned down because now a shower could be taken without emptying the hot water tank.
Life went on and so did the drought! As this widespread drought continues to run the western states dry, new water policies and laws are once again being implemented that are aimed at helping reduce water usage. With new water policies come new technologies to help ease the transition into an ever evolving mind-set of living a more sustainable lifestyle that balances tomorrow's needs with today's availability.
WaterSelect.com & Instant-Off.com are established water conservation leaders with a proven history of advancing water and energy conservation through the deployment of state-of-the-art water saving flow-control valves that attach to existing showerheads and faucets. When a Water Select flow-control valve is attached to an existing showerhead and an Instant-Off flow-control valve is added to an existing faucet these fixtures are immediately transformed into zero waste, high-efficiency fixtures. User satisfaction is positive because performance is maintained and the valves quickly pay for themselves.
In the summer of 2015 the California Energy Commission voted to adopt stricter standards for future water-using products. Water Select and Instant-Off are confident that the improved efficiency of their combined water saving technologies are key elements in once again making massive leaps forward toward the much needed advancement of long-range water sustainability; while offsetting the impacts of today's increased demand for water.
Water Select and Instant-Off request support from the government agencies striving to make headway in advancing water conservation. Encouraging mass participation utilizing affordable technology available today, through promotion and rebates are essential as existing water supplies are stabilized and various alternatives of procuring more water are examined.
Sustainability must be a vision for the future, not simply a response to what's happening around us! Water Select and Instant-Off are conservation tools that have an immediate effect. Get more info at http://www.waterselect.com and http://www.instant-off.com/