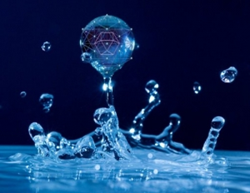 We Are the Industry Leader in Pristine Water Filtration Systems
(PRWEB) February 17, 2016
"Pristine water is the original source of life. Few things tie humans so directly to the natural environment as drinking water," quoted by Glen Caulkins of PristineHydro™.
Combating one of America's Top Health Problems
Water is among the most basic requirements for human survival, therefore emerging threats related to drinking water contamination (http://www.pristinewaterfilters.com/) demand careful consideration. The contamination of water is a direct reflection of the degree of contamination of the environment. After flushing airborne pollutants from the skies, rainwater literally washes over the entire human landscape before running into the aquifers, streams, rivers, and lakes that supply our drinking water. Any and all of the chemicals generated by human activity will find their way into water supply.
Scientific studies are increasingly coming to the conclusion that water contamination may be America's number one health problem. Over 70% of the human body is water, and it needs clean properly mineralized water daily to rejuvenate its immune system and flush out toxins. Water is the foundation of human health; if the foundation is weak the entire structure is jeopardized.
Most people have lost touch with their body's demands for water and have instead substituted food and/or other beverages for water. Ironically, many of the beverages most people choose, such as alcohol, juices, soft drinks, coffee, and tea actually dehydrate the body and make the body more acidic – thus adding to the problem.
Many of today's health problems are the result of chronic acidosis, dehydration and/or a vain attempt to rehydrate with contaminated acidic water (http://shop.pristinewaterfilters.com/) or purified acidic water. Unfortunately, research on drinking water is highly fragmented and often opinionated. Studies on water and heart disease often ignore the findings of studies on drinking water and cancer and vice versa, thus creating an often inconsistent and confusing picture.
Current Options
With all of humankind's great progress and scientific advancements, we have not been able to take care of the most essential of human needs: properly mineralized drinking water.
All the leading commercially available water purifiers are largely ineffective and obsolete at best, with some methods creating water that is actually harmful to human health.
The evolution of water treatment: Carbon Filters, Distillation, Reverse Osmosis, and last but not least, Water Ionizers.
Carbon Filters: reduce only organic compounds. An organic compound is any member of a large class of gaseous, liquid, or solid chemical compounds whose molecules contain carbon. Inorganic compounds, minerals, and chemical elements are not removed.
Carbon filtered water contains high total dissolved solids (inorganic minerals). A carbon filter does not remove sulfuric or nitric acids. The water has high acid content and contains many contaminants including iron, fluoride, lead, cadmium, zinc, aluminum, trace pharmaceuticals, disinfection by-products, etc.
Distillation: removes everything from the water except chlorine and acids. Note: chlorine and acids are liquids and gasses that evaporate and thus still remain in the water after the distillation process. "When chlorine is added to our water, it combines with other natural compounds to form Trihalomethanes (chlorination byproducts), or THMs. These THMs trigger the production of free radicals in the body, causing cell damage, and are highly carcinogenic. According to the Environmental Defense Fund, 'Although concentrations of these carcinogens (THMs) are low, it is precisely these low levels that cancer scientists believe are responsible for the majority of human cancers in the United States.'" (8) Simply stated, chlorine is a pesticide, as defined by the U.S. EPA, whose sole purpose is to kill living organisms. The US Council of Environmental Quality states that, "the cancer risk among people drinking chlorinated water is 93% higher than among those whose water does not contain chlorine" (Showering in Tap Water, 2001). Organizations such as Greenpeace and the Sierra Club, as well as many doctors and scientists, are publicly claiming that certain levels of chlorine can lead to cancer, decreased immune system, birth defects and other health problems to those who are exposed. J.M. Price, M.D. of Saginaw Hospital believes that, "chlorine is the greatest crippler and killer of modern times.
Today, eighty-five percent of pharmaceuticals contain chlorine or are made using chlorine chemistry. Commonly prescribed life-saving antibiotics, cancer treatment drugs, AIDS medications, heart and high blood pressure medications, arthritis medications, cold and allergy medicines, and pain relievers like Tylenol are all made with the assistance of chlorine.
Distilled water is aggressive water, it is highly acidic, it has a low pH, it is dead water, and it is neurotoxin. It does not contain any bicarbonate electrolyte salts.
Reverse Osmosis: in conjunction with a carbon filter removes 90 to 98% of total solid contaminates from water resulting in water that is basically equivalent to distilled water, without the chlorine. Reverse Osmosis it does not remove acids from water (acids are liquids and gasses, not solids). Reverse Osmosis water too is aggressive water; it is highly acidic, it has a low pH, it is dead water, and it is a neurotoxin. It does not contain bicarbonate electrolyte salts.
Water Ionizers: remove acids (acid rain, sulfuric and nitric acids) from tap water, and they incorporate a carbon block filter, which will reduce organic compounds from the water. Ionized water is basically acid-free carbon block filtered tap water. Ionized water has a high level of TDS (total dissolved solids) and contains many inorganic contaminants (whatever happens to be in the tap water). Ionized water has a high pH because the water is high in TDS (unnatural levels of inorganic minerals in the water) and because the acids were removed. Ionized water is still hard contaminated water.
Tap Water: is high in TDS, high in acid and organic compounds, and contains many contaminants including fluoride, trace pharmaceuticals, pesticides, chlorine, disinfection by-products, etc.
Bottled Water: quality is unregulated and the water is highly acidic. Spring water is hard (high TDS), and it contains acids, heavy metals, chemicals, pesticides, etc. Purified water is the same as distilled and reverse osmosis waters; it is aggressive water, it is highly acidic, it has low pH, it is dead water, and it is a neurotoxin. Furthermore, most bottled water is packaged in plastic bottles, which leech biphenyl- A (an endocrine disruptor) into the water. Today's leading water purifiers create acid water or dead water that is harmful at some level and impedes on the body's natural ability to heal itself. The water ionizer produces acid free carbon block filtered tap water!
Pristine Water Filters delivers to the following geographical areas:
Alabama, Alaska, Arizona, Arkansas, California, Colorado, Connecticut, Delaware, District of Columbia, Florida, Georgia, Idaho, Illinois, Indiana, Iowa, Kansas, Kentucky, Louisiana, Maine, Maryland, Massachusetts, Michigan, Minnesota, Mississippi, Missouri, Montana, Nebraska, Nevada, New Hampshire, New Jersey, New Mexico, New York, North Carolina, North Dakota, Ohio, Oklahoma, Oregon, Pennsylvania, Rhode Island, South Carolina, South Dakota, Tennessee,Texas, Utah, Vermont, Virginia, Washington, Washington DC, West Virginia, Wisconsin, Wyoming, Canada, Europe, and virtually anywhere on the planet.
PristineHydro™ (https://www.youtube.com/watch?v=A4j4uHquBPs) has also been featured on The Discovery Channel Via Newswatch Tv.
PristineHydro™ delivers water filters for the home and businesses making healthy water accessible to all at cost levels and form factors. The professionals at PristineHydro™ are highly informed regarding the history of water and how these products can enhance the consumer's life.
It is no wonder so many professional athletes and health enthusiasts are turning to PristineHydro™ for their hydration needs.
For more information please visit http://www.pristinewaterfilters.com or by calling toll free (888) 240-1175