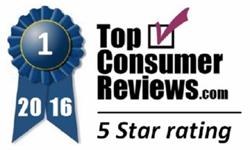 Discount Filter Store has an incredible selection of water and air filter products at very competitive prices.
Overland Park, KS (PRWEB) June 22, 2016
TopConsumerReviews.com recently awarded their highest 5 star rating to Discount Filter Store, an industry leader in Water Filters.
Home Water Filters are a popular choice for people who want the refreshing taste of purified water without the waste of using disposable plastic bottles. Whether a home is on well or city water, water filters can improve the overall taste, reduce chemicals, and eliminate contaminants that may be present. Water Filter options include whole-house systems, countertop and faucet models, and pitchers that filter a few liters at a time. Shopping for water filters online is the most convenient and often cost-effective way to find the product that will be the best fit for one's filtration needs.
"Discount Filter Store has an incredible selection of water and air filter products at very competitive prices," explained Brian Dolezal, of TopConsumerReviews.com, LLC. "With over 100 brands available, the website makes it easy to find filters by brand name, category, and even clearance products. We particularly appreciate Discount Filter Store's 90-day return policy, price match guarantee, and free shipping on all orders over $39. We are pleased to give Discount Filter Store our highest ranking for online providers of Water Filters in 2016."
To find out more about Discount Filter Store and other online retailers of Water Filters, including reviews and comparison rankings, please visit the Water Filters category of TopConsumerReviews.com at http://www.topconsumerreviews.com/water-filters/.
About Discount Filter Store
Discount Filter Store's mission is to provide easy to find filter products for water, air purification, pools, spas, and appliances at low prices that everyone can afford. The company currently has hundreds of thousands of loyal customers including end users, Fortune 500 companies, universities, government agencies, and other institutions. Discount Filter Store provides their high quality products and service to great companies and organizations throughout the U.S. and the world. The company is based out of Holly Springs, North Carolina.
About TopConsumerReviews.com
TopConsumerReviews.com, LLC is a leading provider of independent reviews and rankings of hundreds of consumer products and services. From Water Filters to Faucets and Home Security Systems, TopConsumerReviews.com delivers in-depth product evaluations in order to make purchasing decisions easier.