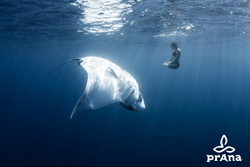 We hoped that sharing the awe we felt in the water would inspire people to become more enthusiastic advocates for our oceans
Carlsbad, California (PRWEB) March 20, 2014
prAna ambassador Amy Ippoliti joined forces with underwater photographers Taro Smith and Shawn Heinrichs to help bring awareness and spur activism around marine conservation and overfishing.
"We traveled to be with these animals because we wanted to capture their magnificence on camera," said Amy. "But what interested us most was encapsulating the potent interspecies connections we made in yoga poses (and swimming) with the animals. We hoped that sharing the awe we felt in the water would inspire people to become more enthusiastic advocates for our oceans."
One of the most powerful images of the trip included Amy swimming with a 1,500lb manta ray — a threatened species. They are overfished for their gill rakers, which are in high demand in Chinese markets, due to the belief that they have healing properties.
"My own vivid memories being in the water with the mantas is a constant reminder to do the right thing when it comes to ocean conservation," said Amy. "There is much we can do as individuals to make a difference."
Here are six ways Amy suggests you can help with marine conservation:

Support organizations working to protect marine wild life and our oceans such as WildAid, Manta Ray of Hope, Shark Savers, Oceanic Preservation Society and Blue Sphere Foundation
Be sustainable, buy sustainable
Don't buy tickets to watch captive marine life in amusement parks; do buy tickets to watch informative documentaries such as "The Cove".
Lose the plastic, especially bottled water
Be a good beach bunny: pick up after yourself, and others if needed
Be mindful of your carbon footprint to reduce the effects of climate change on the ocean
You can find out more about marine conservation, Amy, and all of prAna's ambassadors online at prAna.com/life.
About prAna:
prAna is a lifestyle brand that draws its name from the ancient Sanskrit word for breath, life and vitality of the spirit. Born from climbing and yoga, the prAna team creates mindfully-designed, purposeful and stylish apparel for free spirited people to pursue their passions on the water, mat, rock, trail, and street. From its beginning in 1993, prAna has been committed to weaving sustainable practices into its operations and supply chain, working to reduce its impact on soils, water supplies and other natural resources while promoting conservation. prAna is also conscious of its impact on communities and has worked to include a growing number of fair trade styles every year. It is the first apparel company in North America to offer Fair Trade USA certified products and accessories. prAna is sold in five flagship stores, online at prana.com, and in 1,400 specialty retailers across the US, Canada, Europe and Asia.
For a list of prAna retailers, please visit http://www.prana.com/dealer-locator.html.