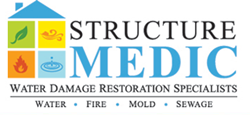 Gutters clogged with fallen leaves, pine needles and other debris can cause serious damage to a home's interior and even the exterior.
(PRWEB) November 21, 2013
StructureMEDIC, an Atlanta water removal service, reminds homeowners this season to maintain gutters through regular cleaning and maintenance. Clogged gutters can cause severe water damage to the interior and exterior of the home; water damaged or rotted wood can encourage dangerous insects like termites as well as bacteria and mold growth. The company is providing information, cleaning tips and suggestions to consumers in blog posts and social media updates.
Water damage caused by clogged gutters is common this time of year as deciduous trees shed their leaves. Homeowners surrounded by non-deciduous or evergreen trees are still at risk as the trees drop significant amounts of pine needles and pinecones which can also clog and damage gutters.
When a gutter is clogged with leaves, the water will leak out of the gutter and can seep in through cracks or windows; it can also cause land erosion and damage landscaping. This leaking water can seep into a foundation causing cracks and damage that impacts the structural integrity of the home. Often, water from clogged gutters will run up under shingles or roofing tiles, causing damage and water leaks in the roof of a home. The water can leak into the home, damaging ceilings or walls.
"Gutters clogged with fallen leaves, pine needles and other debris can cause serious damage to a home's interior and even the exterior," says Stephen Elliott, owner of structureMEDIC. "Gutters can become weighted down and pull away from the roof, which causes even more damage. These are expensive repairs that can easily be avoided with regular cleaning and maintenance."
Elliott suggests homeowners make a schedule to clean their gutters regularly. He advises if homeowners live in an area where they experience large amounts of fallen leaves to plan more frequent cleanings. Elliott recommends homeowners invest in gutter guards and run water through the gutter system after cleaning to observe the presence of any leaks and ensure water is able to travel to the downspout and away from the home.
StructureMEDIC is one of the most experienced water damage restoration teams in the state of Georgia. The dedicated crew is on call 24 hours a day, 7 days a week and provides the following services: water damage cleanup, fire damage restoration, smoke and soot cleanup, de-humidification, mold removal, claims inventory service, sewage backup repair, HVAC/air duct cleaning, deodorization, and bio hazard cleaning. If recent weather has caused water, mold, smoke, or fire damage to your home or business, call structureMEDIC's team at 404-934-5967. Please visit http://www.structuremedic.com for additional information.