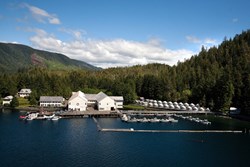 Last year we embarked on our most successful event in history due in part to the kindness of Waterfall Resort...
Ketchikan, AK (PRWEB) January 30, 2014
Waterfall Group, the leader in all-inclusive sport fishing resort management, today announced its 2013 charitable giving to US based non-profits exceeded $100,000.
"Our flagship property, Waterfall Resort is known for its legendary sport fishing and warm hospitality," said Carol Stoop, Donation Program Manager at Waterfall Group, "and that passion for service extends beyond the resort's 52 acres into supporting good causes and charities. Since the program's inception, we're pleased to have assisted hundreds of groups that do so much for so many."
During 2013 more than twenty organizations used Waterfall Resort's all-inclusive fishing package to raise an average of $4,400 per event. "Some charities raised up to $10,000 through energetic live auctions, web-based raffles and silent auctions. The program allows groups to build an event that fits their needs," noted Stoop.
Packages are consignment based so non-profits like the National Wild Turkey Federation that raised funds for nineteen families of the Arizona Hotshot Team or the Boys and Girls Club of Albany that help area youth can experience zero risk and high return.
"Last year we embarked on our most successful event in history due in part to the kindness of Waterfall Resort and the allure of the fishing package," said Kimberly Littler, Special Events Manager for the Albany, OR Boys and Girls Club. "The package is extremely easy to execute and because there's no obligation, we implemented without any stress."
Waterfall Resort's Donation Program enters its 11th year in 2014. Donated three-night travel packages for two include ocean front lodging, guided fishing, all meals, fish processing and packaging.
About Waterfall Group: Waterfall Group is the leader in all-inclusive Alaska sport fishing resort management. Founded in 1982, Waterfall Group properties are known for their unique destinations, warm customer service, expert marine crew and close proximity to the best fishing spots in Alaska. Welcoming more than 50,000 guests to its historic and luxury properties, Waterfall Group boasts an impressive guest return rate that includes multiple generations. http://www.WaterfallResort.com and http://www.SteamboatBay.com.