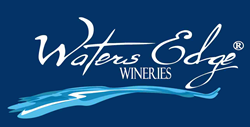 Waters Edge Wineries has opened its first location outside California that is part of our larger plan to extend our reach to the eastern United States. The Oklahoma City location is located in the historic Automobile Alley in downtown
San Juan Capistrano, Ca (PRWEB) March 03, 2015
Waters Edge Wineries today announced the grand opening of two brand-new franchise locations in San Juan Capistrano, California, and in Oklahoma City, Oklahoma.
The new locations represent not only further development of the Waters Edge Wineries brand, but also expansion beyond its California roots. "Waters Edge Wineries has opened its first location outside California that is part of our larger plan to extend our reach to the eastern United States. The Oklahoma City location is located in the historic Automobile Alley in downtown," says Ken Lineberger, president of Waters Edge Wineries.
"We also opened another franchise location in a historic building near Mission San Juan Capistrano," adds Lineberger. "Each location will attract thousands of visitors and regular guests every month, helping us continue to promote our system growth."
Ken and Angela Lineberger founded the original winery in Rancho Cucamonga in 2004 under the name "The Wine Tailor." The historical site, located in California's oldest commercial winery, was built in 1839 and has become a destination of choice for visitors and locals seeking the winery experience in an urban setting.
Over the years, the business evolved from being an award-winning winery to being a winery during the day and a wine bar in the evening, complete with weekend entertainment as well as light food and appetizers. In 2012, the Linebergers created Waters Edge Wineries to focus on helping people enjoy wine regularly, without any of the typical barriers that keep many people from venturing into a winery or a wine bar. The addition of the franchise model to the business — and now, with its expansion outside California — allows Waters Edge Wineries to appeal to a broader audience and to introduce the amazing world of wine to a wide variety of guests.
As president of Waters Edge Wineries, Ken is personally involved in each new location to help ensure franchisees' success as the company grows. To find out more about Waters Edge Wineries or for franchise inquiries, visit http://www.watersedgewineries.com.
About Waters Edge Wineries, Inc.
Founded in 2004, the Waters Edge Winery Franchise is expanding its leadership in micro and custom wineries built in urban areas close to population centers. Waters Edge Wineries, based in Rancho Cucamonga, California, is combining the best attributes of a winery and a wine bar in one model that can be located virtually anywhere. For more information, contact Ken Lineberger at (909) GOT-WINE (468-9463), ext. 704, or visit http://www.watersedgewineries.com.