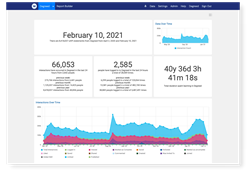 Enriching the quality of learner experiences, tracking the evolving skills of employees, and understanding the learning process objectively through data are all fundamental table stakes to competing in today's knowledge-based economy.
NASHVILLE, Tenn. (PRWEB) April 27, 2021
Watershed, the leader in Learning Analytics Platforms, is announcing its partnership with the learning experience and upskilling platform Degreed to deliver enhanced learning analytics and reporting.
"Watershed and Degreed both exemplify modern innovation in L&D," said Bill Conran, Vice President of Business Development and Strategy at Watershed. "Competitive advantage, more than ever before, lies in how information is learned and used within the organization. Enriching the quality of learner experiences, tracking the evolving skills of employees, and understanding the learning process objectively through data are all fundamental table stakes to competing in today's knowledge-based economy."
"Degreed is excited to partner with Watershed because we are both working to unify the experience of learners in order to optimize the value of L&D ecosystems made up of best-of-breed tools," said Rob Wellington, Director of Experience Partnerships at Degreed. "More than half of learning activity is happening outside traditional corporate learning and talent systems. So our customers are increasingly seeking out insights on what happens beyond their HCM systems and LMSs."
While Degreed offers learners with access to limitless content sources, Watershed aggregates the rich learning data from Degreed alongside once-siloed organizational data to provide a complete view of the learner experience and performance. In turn, this allows Degreed users to:

connect and standardize data from learning and performance systems,
create, automate, and distribute reports and visualizations, and
conduct segmented evaluation across your organizational hierarchy.
What does Degreed data look like in Watershed?
Degreed reporting provides an efficient top-level, in-app view into utilization, skills, and pathways based on completions. Degreed's xAPI integration with Watershed allows users to dig deeper into details and build reports or configure dashboards in Watershed to seamlessly:

monitor learning alongside performance data, and
measure competencies to drive business KPIs.
Using Watershed, an organization can view a dashboard of reports that combine learning data from Degreed with competencies and business KPIs from multiple systems. This central dashboard provides insight into the complex relationship between comprehension and applying concepts and skills so managers can address performance improvement.
How does the integration work?
Degreed's investment into interoperability includes extensive testing and tweaking with the Watershed team to ensure it meets the highest standards for reporting. Degreed learning data feeds into Watershed's dashboards in real time. Setting up Degreed with Watershed is as simple as asking Degreed for xAPI credentials and sharing them with Watershed, who will take care of the rest.
Upon connecting Degreed with Watershed, six months of historical data will automatically be pulled into an account to populate dashboards as new data comes in and learners interact with the Degreed platform.
To learn more about this partnership, visit https://try.watershedlrs.com/integrations/degreed.
About Watershed
Founded in Nashville, Tenn., in 2016, Watershed is dedicated to changing the world of learning by helping corporate L&D departments get more from their initiatives. This includes a customizable SaaS-based learning analytics platform that assesses the impact and effectiveness of corporate learning programs and helps maximize investments in learning.
Made possible by xAPI, Watershed enables users to explore their learning data in one place and measure how L&D programs impact their organizations. This high-growth organization has developed a portfolio of Fortune 500 global clients—such as Visa, Verizon, PwC, and Caterpillar.
Watershed is part of Learning Technologies Group plc's award-winning group of specialist learning technology businesses. Learn more at watershedlrs.com.
About Degreed
Degreed is the workforce upskilling platform for one in three Fortune 50 companies. We integrate and curate all the resources people use to learn — including learning management systems and millions of courses, videos, articles, books, and podcasts. Then we use behavioral and data science to analyze everyone's skills, and to automatically personalize career development based on their jobs, strengths, and goals.
Founded in 2012, Degreed is headquartered in Pleasanton, California, with additional offices in Salt Lake City, New York, London, Amsterdam, and Brisbane. Learn more at degreed.com.