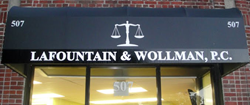 We are very proud of this achievement because it lets us know that we are doing the right thing and it lets our potential clients know what to expect if they hire us
Watertown, MA (PRWEB) June 17, 2015
Watertown divorce lawyers should be chosen carefully. LaFountain & Wollman have developed an excellent reputation over the years. Recently they reached 10 positive online reviews for law firms in Watertown, MA. These 5 star reviews are a reflection of how dedicated the firm is to providing customer satisfaction and a good legal outcome for their clients according to Nicholas LaFountain who is a Founding Member at LaFountain & Wollman. "We are very proud of this achievement because it lets us know that we are doing the right thing and it lets our potential clients know what to expect if they hire us."
Nicholas LaFountain recommends that people do their due diligence before hiring a Watertown divorce attorney. "We work for what is in the best interest of our clients, not ourselves and this is reflected in our positive online reviews on Google, Yelp and Bird's Eye. That is important because it means we pay attention to the cost to benefit ratio we are delivering to our clients. We understand that people are cost sensitive and they want a favorable legal outcome for a reasonable price and we are sensitive to this need."
The experienced attorneys at LaFountain & Wollman handle a broad range of family law issues. Some of the most common matters they help with are divorce, child custody, child support, and spousal support and agreement modifications. "We help people all of the time with complex family law issues and we have the expertise required to streamline the legal process as much as possible. Whether it's a simple dissolution of marriage or a complicated divorce with property division and asset issues our attorneys can help," says Attorney Nicholas LaFountain.
In addition to being skilled Cambridge divorce lawyers LaFountain & Wollman also handled cases involving other areas of the law such as personal injury, immigration, business law, real estate law and estate planning. According to their positive online reviews clients have been pleased with the outcomes of their cases in these areas of the law. "We have several attorneys and every one of them has a different set of skills. We pair our clients with the lawyer that best meets their needs for the specific situation."
The Watertown and Cambridge divorce attorneys at LaFountain & Wollman offer potential clients a no cost consultation. Unlike many other law firms, they offer a full 30 minutes to evaluate a case. "We want to get to know about the legal issues our clients our facing and to get an understanding of their goals. We also want them to get a chance to know us before they make a choice about hiring us," says Nicholas. Their experienced attorneys utilize collective, but never duplicative efforts to maximize efficiency in a practical, cost effective manner. Their lawyers also promote excellent client relationships and respond to client communications in a timely manner.
To learn more about the family law and divorce attorneys at LaFountain & Wollman please visit their website. To see all of their positive online reviews please look them up on Yelp, Bird's Eye and Google. People are also invited to view their online videos and to read their press releases. To take advantage of the no cost consultation please call (617) 923-9800 to speak with an experienced divorce attorney in Watertown.
LaFountain & Wollman, P.C.
507 Mt Auburn St
Watertown, MA 02472
(617) 923-9800